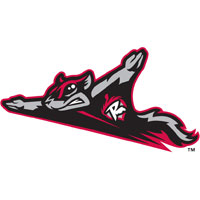 The Richmond Flying Squirrels (32-25) claimed their three-game series with the trenton thunder with a, 8-5, victory on Thursday night at The Diamond.  The Squirrels have now won eight of their last nine contests and hit the road at a high-water mark for the year of seven games over .500.
Richmond hopped into the driver's seat in unconventional fashion in the first inning, plating four unearned runs against lefty Jeremy Bleich.  Tyler Graham led off and reached on an error charged to second baseman Rob Refsnyder.  He promptly swiped second base.  Bleich then walked Kelby Tomlinson.  Ball four was wild to the backstop and Graham advanced to third.  Tomlinson then took off for second on the first pitch to Matt Duffy.  Catcher Pete O'Brien threw down to second base and didn't get Tomlinson.  Graham bolted for the plate and scored for a 1-0 lead.  With Duffy still at the plate, Tomlinson took off for third.  O'Brien threw wildly there, and as the ball rolled into left field, Tomlinson scored the second run of the inning.  Bleich registered the first two outs, but then walked Angel Villalona.  Devin Harris followed and launched a two-run home run to left-center field for a 4-0 advantage.
Squirrels' lefty Jack Snodgrass took the advantage and rolled through four scoreless one-hit innings.  Trenton briefly got back in the game in the fifth inning however.  O'Brien led off with a single and was forced at second by Dan Fiorito.  Yeral Sanchez, Taylor Dugas and Ali Castillo then strung together three consecutive singles.  Fiorito and Sanchez scored on Castillo's single to slice Richmond's lead in half, 4-2.
Duffy didn't let the momentum swing for long however as he led off the bottom of the fifth with a triple to right-center field.  Mario Lisson followed and drilled a two-run home run to right-center.  His seventh of the season restored Richmond's lead to four runs, 6-2.
Bleich (4-5) didn't survive the fifth, departing to the loss after 4 2/3 innings.  He was charged with six runs – two earned – on six hits.  He walked four and struck out two.
Snodgrass returned to begin the sixth inning, but surrendered a lead-off double to Tyler Austin.  He recorded the first out, but was then lifted in favor of right-hander Edwin Quirarte.  O'Brien greeted him and singled to center field to plate Austin and make it 6-3 Richmond.
Snodgrass (6-0) earned the victory across 5 1/3 innings.  He was charged with three earned runs on six hits.  He walked one, hit one and struck out four.
Richmond added a pair to their lead against lefty Aaron Dott in the sixth inning.  With Graham and Tomlinson aboard, Lisson cracked a two-run single into right field.  The Squirrels possessed an 8-3 advantage with Lisson having driven in four of those runs.
The Thunder got two back against lefty Phil McCormick in the seventh inning as Refsnyder drove home a run with a double and Austin added an RBI single.  However, Trenton would get no closer.
Right-handers Andrew Carignan and Hunter Strickland restored order from there.  Carignan handled a scoreless eighth, before Strickland finished the win in style.  He registered his first save of the season fanning both Refsnyder and Austin to end it.
The Squirrels begin a week-long road trip on Friday night when they open a four-game series with the Reading Fightin Phils at FirstEnergy Stadium in Reading, PA.  First pitch of the opener is scheduled for 7:05 p.m.  Richmond RHP Austin Fleet (4-1, 3.15) will make the start against Reading LHP Jesse Biddle (3-5, 3.14).  The Flying Squirrels Pregame Warmup begins at 6:35 p.m. on Sports Radio 910 and SportsRadio910.com.