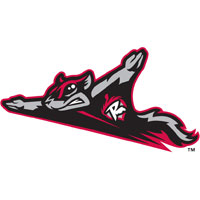 The Richmond Flying Squirrels (66-44) breezed past the Harrisburg Senators (43-65), 5-2, at The Diamondon Tuesday night.  With the win, the Squirrels grab the series and guarantee at least a 10-game playoff cushion.
Jarrett Parker led off the second inning for the Squirrels and quickly gave Richmond a 1-0 lead.  Parker launched a solo-home run to right field off of right-hander Austin Voth, making his Double-A debut for Harrisburg.  It marked Parker's 12th home run of the season.
The Squirrels padded their lead with a pair of runs in the fourth inning.  Skyler Stromsmoe led off the inning with a single back through the middle.  He was forced at second by Matt Duffy, but Parker then walked to put two aboard.  An out later, Angel Villalona yanked a two-run double into the left-field corner.  Duffy and Parker came around for a 3-0 lead.
On a short pitch count, Mejia departed after four sterling innings.  He was ineligible for the win, but did not allow a run on just one hit.  He walked one and struck out four.
Voth (0-1) called it a night after five innings.  He was charged with three earned runs on four hits, walked one and struck out seven.  He was saddled with his first Double-A loss.
Richmond tacked on another run against Voth's successor Zach Kroenke in the sixth.  Stromsmoe drew a walk to open in the inning.  An out later, he stole second base and advanced to third on an error from the catcher Brian Jeroloman.  Parker then knocked in his fourth run of the series with a bloop-single to left field and the Squirrels held a 4-0 lead.
Right-hander Edwin Quirarte (9-4) claimed the win for the Squirrels with three nearly flawless innings of relief.  He allowed just a lone hit while striking out two.  The win was Quirarte's ninth of the season.
The Senators cracked the scoreboard for the first time in the eighth inning off of lefty Steven Okert.  Okert issued a one-out walk to Jeroloman.  An out later, Quincy Latimore clubbed a pinch-hit two-run home run to left field to cut Richmond's lead in half, 4-2.
Richmond got one of those runs back in the bottom of the inning when Parker contributed his third hit of the night – a double to left-center field.  He scored later in the inning on a wild-pitch from right-hander Derek Self to make it 5-2.
Righty Hunter Strickland had no trouble from there.  He struck out two in a perfect ninth inning as he earned his seventh save of the season.
The finale of the three-game series is scheduled for 12:05 p.m. at The Diamond on Wednesday night.  Richmond RHP Chris Stratton (0-0, —) will make his Double-A debut against Harrisburg RHP John Simms (2-2, 3.78).  The Flying Squirrels Pregame Warmup begins at 11:35 a.m. on Sports Radio 910 and SportsRadio910.com.