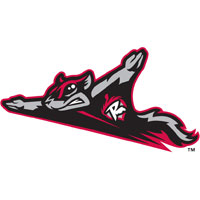 The Richmond Flying Squirrels (30-24) continued to roll on Sunday afternoon with their sixth consecutive win in a 6-2 victory over Bowie (29-27) to complete a three game series sweep of the Baysox. Squirrels RHP Kyle Crick was in control through the first five innings and the Squirrels used a pair of home runs to accomplish their second consecutive series sweep. Richmond improved to 9-0on Sunday games this season.
Richmond took an early lead over Bowie for the third consecutive game in the series. Kelby Tomlinson led off the third inning with a single and then stole second base.  jarrett parker managed to reach on an error before Angel Villalona cranked a fastball off the video board in left center field for his fifth home run of the season and a 3-0 lead.
Bowie plated a run without a hit in the fourth inning to cut the lead to 3-1. Crick walked Ronald Bermudez to begin the frame. Bermudez advanced to third on a two base wild pitch and then scored on a groundout to second base.  Richmond was able to get that run right back in the top of the fifth on the sixth home run of the season from Jarrett Parker, a no doubt blast to right center. It was his second homer of the series.
Kyle Crick was in control throughout the game in his 9th start of the season. He retired the side in the first with a pair of strikeouts and faced just four batters in the second inning. Crick (3-1) breezed through 5.1 innings on 99 pitches and allowed one run with a pair of hits, two walks and five strikeouts to earn the win. Crick walked Ronald Bermudez with one out in the sixth inning to end his outing.  Jose Cassila relieved Crick and procured the final two outs in the sixth inning. Casilla added a scoreless seventh inning in the effort.
Bowie LHP Jake Pettit (4-4) was the losing pitcher in a six inning performance. Pettit allowed four runs, (three earned) on six hits with five strikeouts. Bowie reliever Marcel Prado allowed a pair of runs in the seventh inning on a base hit, walk and a pair of wild pitches to give Richmond a 6-1 edge. The Baysox added a run to make it 6-2 in the eighth inning on Christian Walker's league-leading 15th home run of the year off reliever Kelvin Marte. Cody Hall finished out the game for the Squirrels with a 1-2-3 ninth inning.
The Flying Squirrels begin a brief three game homestand on Tuesday June 3rd at 6:35 against the trenton thunder. Richmond LHP Adalberto Mejia will make the start against Thunder LHP Manny Banuelos (0-1, 4.63).  The Flying Squirrels Pregame Warmup begins at 6:05 p.m. on Sports Radio 910 and SportsRadio910.com.