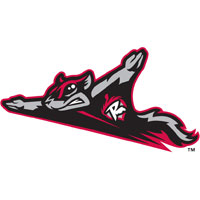 The Richmond Flying Squirrels, in conjunction with their parent affiliate, the San Francisco Giants, have announced a two-year extension to the player development contract (PDC) between the two organizations.  As the Squirrels currently compete in the Eastern League Championship Series, the team completes its fifth season as the Double-A affiliate of the Giants.  Under the new agreement, the Squirrels will remain a Giants' affiliate through the 2016 season.
Through the first five seasons of the Squirrels' affiliation with San Francisco, 27 players have gone on to make their Major League debuts.  That includes 2014 Flying Squirrels' Most Valuable Player Matt Duffy, and 2014 closer Hunter Strickland, who both were promoted directly from Richmond during the 2014 season.
"With the playoff excitement currently in the air, it is a perfect time to ensure our fans in the RVA that they will continue to represent one of the greatest organizations in Major League Baseball," said Flying Squirrels' Vice President & COO Todd "Parney" Parnell.  "The Giants have become our family in Richmond, and have consistently supplied both players and instructors that have represented the Squirrels organization in a premier fashion both on the field on and off.  We are thrilled to continue that partnership."
The affiliation between the Squirrels and Giants actually predates the Squirrels themselves.  The partnership began in 2003 between the Giants and the Norwich Navigators.  The Navigators were rebranded as the Connecticut Defenders in 2006, and continued the affiliation through 2009, when the Defenders were relocated to Richmond.  The constant through the 12-year relationship has been Flying Squirrels' President & Managing Partner, Lou DiBella.
"Some things in life and baseball are no-brainers," said DiBella.  "There was absolutely no reason that we wouldn't have wanted to extend a partnership that has been extremely mutually beneficial.  This current playoff run is another example of the excitement that the Squirrels can create in Richmond as an affiliate of the Giants.  We excitedly look forward to the rest of this championship run, and many more successful years together."
The Squirrels have qualified for the postseason twice in their first five seasons of affiliation with the Giants.  In addition to their Western Division championship in 2014, the Squirrels also advanced to the ELCS in 2011.
"The San Francisco Giants greatly appreciate the passionate leadership of the Flying Squirrels' front office and management team," said Giants' Vice President & Assistant General Manager Bobby Evans.  "It is a privilege to be able to extend our relationship with the Squirrels and the city of Richmond, where Giants players have experienced tremendous support in their development on and off the field."