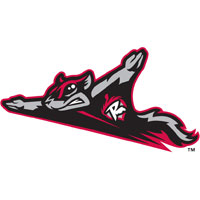 The harrisburg senators (10-20) blindsided the Richmond Flying Squirrels (17-14) with a four-run sixth inning and rolled to a, 5-0, victory on Wednesday morning at Metro Bank Park.  With the win, the Senators claimed the three-game series as the Squirrels finished their six-game road trip with a record of 2-4.
Richmond right-hander Clayton Blackburn steamrolled through his first five innings of the day, holding the Senators without a hit.  He also matched a career-high with 10 strikeouts.  He would have been perfect, if not for a Matt Duffy throwing error in the first inning that allowed Harrisburg a base runner.
However, the wheels fell off the wagon for Blackburn and the Squirrels in the bottom of the sixth inning.  Brandon Bantz led off with the first hit of the day for the Senators, flared to right field.  Quincy Latimore followed and blooped a single into short-right field.  Cutter Dykstra bunted up the runners and Caleb Ramsey made it 2-0 Harrisburg with a single through the right-side of the infield.  Jason Martinson, Matt Skole and Kevin Keyes then singled in quick succession to make it 4-0 and abruptly chase Blackburn from the ballgame.
Blackburn (2-3) was charged with the loss, conceding four runs on six hits – all in the sixth inning.  He worked 5 1/3 innings, walked none and matched his career-high with 10 strikeouts.  He struck out the side twice, in the second and fourth innings.
Lefty Matt Purke (1-5) matched Blackburn stride-for-stride, turning in six scoreless innings.  That included a perfect first three innings when he strolled through the first nine batters of the ballgame.  He won for the first time, allowing just two hits, walking two and striking out three.
Harrisburg tacked on a run to cap the scoring against Austin Fleet in the seventh inning.  Ramsey knocked it in with a double, finishing with three RBIs for the afternoon.
Right-hander James Simmons worked two scoreless innings to bridge the shutout attempt to the ninth inning.  Righty Warner Madrigal took it the rest of the way in a non-save situation.
The Squirrels return home to open a seven-game homestand on Thursday night.  The homestand will begin with a four-game series with the Erie SeaWolves (Detroit Tigers).  First pitch of the opener is scheduled for 6:35 p.m. at The Diamond.  Richmond LHP Adalberto Mejia (1-2, 5.40) will make the start against Erie RHP Jeff Ferrell (2-2, 4.29).  Pregame coverage will begin on Sports Radio 910 and SportsRadio910.com at 6:00 p.m.