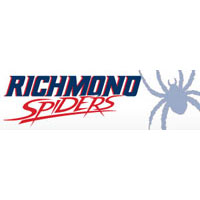 Three different players scored in double-figures for the University of Richmond men's basketball team, but it wasn't enough as the Spiders dropped a 68-56 decision to George Washington in front of sold out Robins Center on Wednesday night.
Playing in front of the fourth sellout in the past five games, the Spiders got a team-high 16 points from Terry Allen. Junior T.J. Clineposted his first career double-double with 15 points and 10 rebounds on the night. Redshirt freshman Khwan Fore scored in double-figures for the seventh time this season.
Richmond scored 30-plus points in the paint for the 20th time this year, finishing with 32 on the night.
"I thought our effort was there tonight," head coach Chris Mooney said. "Give GW credit for the way they played, but I thought we competed. We just didn't do enough on the offensive end like we usually do."
The teams traded baskets to start the first half with four lead changes and three ties in the first eight minutes before the Colonials put together 9-1 run to grab an eight point lead with 7:16 to play in the stanza.
Three straight points from Allen ignited a 12-0 Richmond run that was capped off by four consecutive points from Fore to give the Spiders a 26-23 lead with just over four minutes remaining in the half.
Richmond's lead would reach five before GW made a late run in the half capped off by a three-pointer Alex Mitola to give the Colonials a 32-30 lead at the break.
The second half would start much like the first with the teams trading baskets and the first 10 minutes featuring five lead changes and five ties before the Colonials ripped off a 14-4 run to grab a 10 point lead, 59-49, with under eight minutes left to play.
Richmond got the lead down to eight on three occasions, but that's as close as GW allowed them as the Colonials went 19-of-21 from the charity stripe in the second half to secure the 73-61.
The Spiders hit the road this weekend for a Saturday evening contest against Duquesne. Game time on American Sports Network is set for 6 p.m.