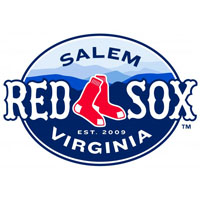 A driving rain storm cut the Salem Red Sox and Frederick Keys opener to four and a half innings, just enough for an official game and 3-0 Keys win. The grounds crew did pull the tarp off the field after a 54 minute rain delay, but the managers and umpires deemed the field too wet to play and called the game after four and a half.
Brady Wager picked up his first win of the second half. Wager was solid through four shutout innings, allowing five hits. Joe Gunkel was dealt loss, going four innings before the rain, surrendering three runs, two of which were earned, on seven hits. Gunkel struck out four Keys.
The only scoring in the ballgame came in the third inning. Jason Esposito singled to lead off the frame off Gunkel, immediately followed by a single by Wynston Sawyer. With one out, Glynn Davis singled home Esposito, and Sawyer moved up to third. Then Mike Yastrzemski singled to right field, which scored Sawyer. Aneury Tavarez's throw from right ended up bouncing into the stands which allowed Davis to score an unearned run and give the Keys a 3-0 lead.
The Sox did have chances off Wager. Two outs on the bases and four left on the bases kept Salem scoreless in their five turns at bat.
With the loss, Salem has now dropped 22 of 28 away from LewisGale Field. Cody Kukuk gets the ball for the Sox tomorrow against Parker Bridwell of the Keys. First pitch is at 7:00.