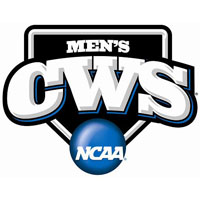 The Florida Gators can rake. But you knew that already. The Gators (50-16) blasted Miami, 15-3, in Saturday's 2015 College World Series opening day nightcap, the difference being an 11-run fourth inning that would have been stopped for cuts if it had taken place in an MMA octagon.
That wasn't just a one-off effort from Florida, which has averaged 7.05 runs per game in 2015, with a team slash line of .300/.385/.454, with 60 home runs and 79 stolen bases (in 109 attempts).
Small ball is in short order (just 23 sacrifice bunts in 2015; for comparison, UVA has 50 sacrifice hits this season), but why waste out when you've got guys like J.J. Schwarz (.335/.397/.649, 18 HR, 73 RBI) and Harrison Bader (.289/.387/.548, 15 HR, 62 RBI)?
Watch out for Josh Tobias (.370/.446/.551, 5 HR, 44 RBI, 11-13 SB), Richie Martin (.287/.401/.417, 5 HR, 33 RBI, 20-27 SB) and Buddy Reed (.316/.378/.440, 3 HR, 44 RBI, 18-26 SB) ahead of the big boppers.
That's five guys with batting averages at .287 or better and on-base percentages at .378 or better. No easy outs anywhere in there, to say the least.
Virginia starting pitcher Brandon Waddell (3-5, 4.15 ERA, 81K/41BB in 91IP, .288 opponent batting average) is going to have his hands full, to say the least.
Waddell, a fifth-round pick in the 2015 MLB Draft, struggled through the 2015 regular season, but has started to return to form in the NCAA Tournament (0-0, 2.93 ERA in two starts, 12K/4BB in 15.1 IP, .286 opponent batting average).
His likely counterpart Monday night is A.J. Puk (9-3, 3.96 ERA, 99K/32BB in 72.2IP, .211 opponent batting average), whose one bugaboo in 2015 has been the long ball (eight homers allowed.
Puk is 1-0 in two starts in the 2015 postseason, with a 2.45 ERA, 14K/4BB in 11 IP and a .267 opponent batting average.
Taylor Lewis is the closer for the Gators (5-1, 1.24 ERA, 7 saves, 31K/11BB in 51IP, .215 opponent batting average).
Setup man Bobby Poyner (5-2, 2.73 ERA, 4 saves, 56K/6BB in 59.1IP, .230 opponent batting average) is the other late-inning A bullpen guy for Florida.
– Story by Chris Graham