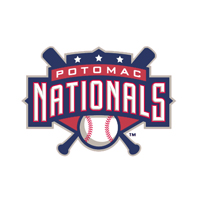 The Potomac Nationals scored runs in bunches with two in the second and three in the fourth en route to a 6-2 victory over the Red Sox on Saturday night at Pfitzner Stadium.
Salem's first run came in the first inning, as Mauricio Dubon singled to begin the game and stole second base. Wendell Rijo then singled, advancing Dubon to third. With runners on the corners and nobody out, Heller bounced into a double play that scored Dubon but wasted an opportunity, as the inning would end with the Red Sox leading 1-0.
In the second, Potomac put runners on second and third thanks to a Drew Ward single and a Brenden Webb double. Raudy Read then laced a ball to center, scoring Ward and sending Webb around third. Mike Meyers fielded the ball and launched it home late, as Jordan Procyshen met the throw in front of the plate while Webb scored. Procyshen snapped a throw to second, catching Read attempting to take an extra base. Despite Procyshen's best efforts, the Nationals took a 2-1 lead.
In the fourth, Ty Buttrey got Ward with a leadoff groundout, but then allowed four straight batters to reach base. Webb blasted a line drive homer to the right field corner for the first run of the inning, followed by a Read walk. Stephen Perez then drove a ball to right-center, scoring Read as he pulled into third with a stand-up triple. After Buttrey hit Estarlin Martinez with a pitch, Rafael Bautista lofted a fly ball to center, allowing Perez to tag and score from third, pushing the lead to 5-1.
Buttrey (8-10) took the loss in his final start of the season. He allowed five runs on seven hits with two walks and two strikeouts in five innings of work and finishes the season with a 4.20 ERA.
Salem added one more in the eighth. Rijo struck out, but reached thanks to a wild pitch from Jake Johansen. Heller then blooped a broken bat single to right, pushing Rijo to third. Another Johansen wild pitch allowed Rijo to score and cut the lead to 5-2.
Potomac's final run scored in the bottom of the eighth with Read doubling in Webb to make it 6-2 Nationals. Tyler Mapes (6-3) earned the win with one run allowed on six hits and three walks in seven innings of work.
Heller was the only Red Sox batter with more than one hit, going 2-for-4 with a pair of singles. Rijo was 1-for-3 with a walk and a run scored and Dubon scored the other Red Sox run, finishing 1-for-4.
The penultimate game of the 2015 season takes place on Sunday at 6:05 p.m. with the Red Sox sending Teddy Stankiewicz (4-11, 4.22) to face the Nationals' Ian Dickson (3-2, 3.52). Fans can listen to the game on 1240 AM ESPN Roanoke, online atsalemsox.com or via the TuneIn Radio app.