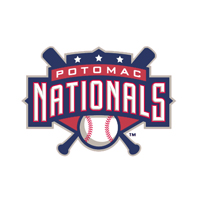 The Potomac Nationals (1-1, 1-1) scored ten unanswered runs after the completion of the 4th inning in Game Two of their four-game set to drown the Carolina Mudcats (1-1, 1-1) on Friday evening by the final score of 10-5 at Five County Stadium in front of 4,278 fans.
The P-Nats used nine hits to attack the Mudcats who scored five runs through the first four innings and did not plate another run for the duration of the nine-inning affair.
Nationals RHP Ronald Pena struggled in his Nationals debut allowing five earned runs on five base hits while walking four and striking out no one.
Carolina scored individual runs in the 2nd and 3rd frames as C Alex Monsalve nailed an RBI single to center field to bring home the leadoff double of DH Anthony Gallas and an inning later, SS Erik Gonzalez bashed a run-scoring 4-3 groundout to summon home the leadoff two-base hit of RF Ollie Linton.
A trio of Mudcats runs scored in the 4th when 3B Yhoxian Medina cranked a two-RBI single into center and later, CF Logan Vick hooked a liner into right field bringing in Medina.
Carolina RHP Michael Peoples was good through three innings and made a home run mistake to one batter to allow the P-Nats to climb back in the contest.
Peoples surrendered threeearned runs on just two base hits while walking one and fanning three.
Down 5-0, Nationals C Pedro Severino, known for his stellar defense, sent a three-run rocket over the double stacked signage in left field to make it a 5-3 game.
In the top of the 6th, the leadoff double of 1B Kevin Keyes was brought home on an unorthodox RBI sacrifice fly off the stick of DH Adrian Sanchez, who cranked a ball to the gap in right center field.
Linton made a sparkling diving catch to save the lead for the Mudcats as Keyes chugged home to cut the Carolina lead to 5-4.
Potomac took all the momentum away in the later goings as RHP Brian Dupra (1-0) the winning pitcher of record, fanned four men in the 5th and struck out another two batters in the 6th.
Dupra gave way to LHP Nick Lee, who followed in suit fanning five of the six hitters he faced through the 8th inning.
Potomac's bullpen was absolutely phenomenal as the relief corps garnered a total of 13 strikeouts.
The P-Nats scored four runs off RHP Rob Nixon (0-1), the losing pitcher, in the 7th courtesy of an RBI double for CF Randolph Oduber, an RBI single for 2B Tony Renda, as well as back-to-back RBI walks issued to RF Brandon Miller and LF Mike McQuillan, which came off RHP Carlos Melo.
As a cherry on top, Potomac added two runs in the 8th inning via two consecutive run scoring singles for Renda and LF Will-Piwnica-Worms.
Nationals RHP Robert Benincasa struck out a pair in the 9th stanza while allowing just an infield single to 2B Todd Hankins on a bang-bang play at first base.
Benincasa induced a groundball by Gonzalez to finish off the second game of the 2014 Carolina League season and even this series at 1-1.
Game Three of this four-game series is scheduled for 6:00pm tomorrow night.
The Nationals will send LHP Brett Mooneyham (0-0, 0.00) to face Carolina LHP Ryan Merritt (0-0, 0.00).
The Potomac Nationals Baseball Network, which is accessible at www.potomacnationals.com, will feature the live broadcast of Game Three beginning with the P-Nats Leadoff Show at 5:45pm.