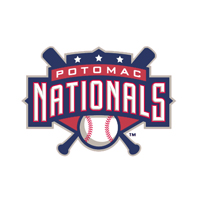 The Potomac Nationals (59-49, 21-18) claimed a 4-2 victory over the Carolina Mudcats (50-58, 21-20) on Friday evening at Five County Stadium in the series opener of a three-contest road set amidst continuous light rainfall.
The Nationals are now (10-4) against the Carolina Mudcats during the 2014 campaign.
Nationals starter, RHP Ian Dickson (3-8) earned his third win by tossing 5.0 innings and allowing two earned runs on five hits while walking three and fanning a trio. Dickson unleashed one wild pitch and hit two batters.
Potomac loaded the bases in the opening inning without the benefit of a base hit as Mudcats RHP Dylan Baker (1-2) witnessed Carolina 2B Jacob Roberts commit a pair of fielding errors before the starting pitcher walked SS Stephen Perez. Baker fanned DH Mike McQuillan on a marginal 3-2 pitch to stand the bases jacked.
Baker eventually was hit with the tough luck loss as the slinger surrendered three runs, one earned, on five base knocks in 3.2 innings. Baker walked two batters and struck out a pair.
In the top of the 3rd inning, the P-Nats plated three runs via an RBI double ripped by Perez up the right field line followed by a throwing error charged to Carolina 3B Yandy Diaz which allowed LF Randolph Oduber, who singled, and Perez to score.
Carolina countered with one run in the bottom of the 3rd courtesy of a fielder's choice groundball off the bat of Diaz plus an error committed by Potomac 2B Tony Renda.
The Mudcats scored another run in the 4th stanza when CF Todd Hankins ripped an RBI single into center field plating RF Luigi Rodriguez, who drew a leadoff walk to get aboard cutting the Nationals' lead to 3-2.
P-Nats RHP Richie Mirowski was brilliant in relief spinning three perfect innings. Mirowski struck out one batter, induced five flyouts, and earned one groundout using 30 pitches including 19 strikes.
Carolina used RHP Benny Suarez to get the last out of the 4th and he would toss 2.0 scoreless innings.
Mudcats RHP Ben Heller worked the last out of the 6th and dealt 1.0 scoreless frame.
Carolina RHP Jacob Lee gave up an insurance run to the Nationals in the away-half of the 9th as Nationals 1B Shawn Pleffner ripped a run-scoring bullet into right field to plate hit batter, CF Isaac Ballou.
In the bottom of the 9th, Nationals LHP Bryan Harper (3 SV) lived on the edge but was able to strand the bases loaded and ink the P-Nats' 4-2 victory. Harper sealed his third save in as many save opportunities in the process. Carolina DH Jerrud Sabourin lined a single into center field leading off the inning, Rodriguez got on board when a popup was dropped in shallow right-center field by P-Nats RF Brandon Miller, and Roberts bunted an offering back to Harper who gunned to third base to get the lead runner. Mudcats CF Logan Vick then walked on four pitches to loaded the bases. Hankins was ahead in the count 3-1 before taking strike two and eventually chasing strike three for the second out. Hankins was ejected by Home Plate Umpire Chase Eade for retroactively arguing the previous pitch. Carolina SS Yhoxian Medina almost cranked a walk-off grand slam on a drive that whistled just beside the left field foul pole before grounding out to Renda at second base to commence the standoff.
Game Two of this three-game bus trip set will get underway on Saturday night at 6:00pm inside the confines of Five County Stadium.
Nationals LHP Hector Silvestre (0-0, 4.50) will duel against Mudcats RHP D.J. Brown (2-5, 4.20) in Game Two.