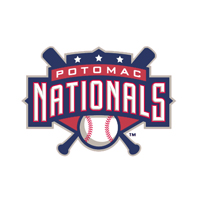 The Potomac Nationals (38-31, 21-14) took their game five rubber match against the Winston-Salem Dash (30-39, 14-21) on Sunday afternoon with an 8-6 win. LF Mike McQuillan drove in four runs en route to the P-Nats victory in the final game of the first half of the season.
McQuillan's RBI hits gave Potomac the lead on both instances. In the fifth, McQuillan pulled a fastball to right field scoring RF Randolph Oduber and 3B Khayyan Norfork. That gave the P-Nats a 5-3 lead. With the game tied 6-6 in the eighth, McQuillan stepped up again and smacked a ball directly off the bag at third base with two outs. The ball was sent into the outfield and two runners came home to give Potomac the 8-6 lead. From there, LHP Bryan Harper (Sv, 1)converted his first save opportunity of the season. LHP Chris Manno (W, 1-0) tossed a scoreless eighth to earn the win.
P-Nats starter RHP Dakota Bacus chucked up a quality start going six innings allowing three runs while striking out four. 2B Tony Renda plated DH Jeff Kobernus twice in the game. Renda's double in the first started the scoring in the game while his double in the eighth tied the game at six.
The Dash acquired their runs in bunches with three in the second and three more in the seventh. Despite committing two errors in the game, SS Tim Anderson scored a run and drove in three of his own in the leadoff spot. The Dash committed six errors in the game including two from Anderson and two from C Martin Medina.
The Potomac Nationals Baseball Network, which is accessible at www.potomacnationals.com, will be off for the next three nights due to the All-Star Break. Broadcast coverage of the next game in Lynchburg will take place on Thursday, June 19th. Broadcast coverage will begin with the P-Nats Leadoff Show at 6:50pm in preparation for the 7:05pm first pitch. Both teams' pitchers are TBD.