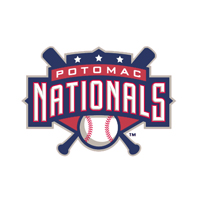 The Potomac Nationals (8-5, 4-2) swept the Myrtle Beach Pelicans (7-6, 0-6) in a doubleheader at TicketReturn.com Field at Pelicans Ballpark on Wednesday evening by beating the hosting club 7-3 in Game One and 3-1 in the nightcap.
The first game was the completion of a suspended contest from last night that was halted due to rainfall.
The Pelicans remain winless in six home contests thus far in the 2014 season.
Meanwhile, the Nationals improve to three games over the .500 mark overall and now have a share of first place with the Lynchburg Hillcats (Atlanta Braves).
Potomac will clash with Lynchburg on the backend of this two-city, seven-game road trip.
Myrtle Beach RHP Cody Buckel (0-1) took the loss in Game One, which began Tuesday night and was completed Wednesday, after allowing four earned runs on three base hits in 1.2 innings while walking four.
Potomac RHP Ronald Pena pitched 2.0 frames and surrendered three earned runs on five hits with one walk and no strikeouts to his line, and did not factor into the decision.
The Nationals used a bases loaded hit by pitch of C Pedro Severino to grab a 1-0 lead in the 2nd stanza. That errant offering allowed DH Kevin Keyes to score after he led off the frame with a ground-rule double blasted to the gap in right center field that hopped off the warning track and over the wall. SS Stephen Perez added a two-run double swept up the first base line before 2B Khayyan Norforkpunched an RBI single the other way into right field to give Potomac a 4-0 edge.
Off Pena, the Pelicans struck back for three runs in the home half of the 2nd. RF Royce Bollinger cranked a two-run home run out to left field, his first of the season that brought home SS Hanser Alberto, who reached on a bunt single up the third base line. CF Chris Garia laced a run-scoring triple into the right field corner which summoned home the one-base knock of LF Odubel Herrera making it a 4-3 game.
When the proceedings picked up on Wednesday, Potomac RHP Brian Dupra (2-0), the winning pitcher of record, went 4.0 scoreless innings and surrendered just two base hits and one walk while fanning seven batters.
Pelicans LHP Sam Stafford was solid through 4.1 scoreless stanzas to give Myrtle Beach a chance to rally.
However, the Nationals plated three unearned runs against RHP Ryan Harvey in the 9th inning to yield a 7-3 advantage as 2B Edwin Garcia dropped a popup off the bat of Keyes allowing Norfork to score before 1B Justin Miller drew a bases loaded RBI walk, and a wild pitch brought home Keyes.
Nationals RHP Robert Benincasa (SV 4) converted his fourth save of the season with 1.2 innings of work without allowing a run. Benincasa gave up two hits, walked one, and struck out one.
3B Joey Gallo swept a 4-3 groundout to Norfork to end the contest and seal the Game One victory for Potomac.
In the Game Two ballgame which was scheduled for seven innings, Nationals LHP Brett Mooneyham (1-1) earned his first win of the season after allowing just one earned run on three hits while walking a trio and fanning one.
Keyes drove in the first run of the game in the 1st stanza on a run-scoring single into the left center field gap that summoned home Norfork, who tripled to deep center field to get on base.
C Cole Leonida had a monster night at the plate going 3-for-3 with two runs scored, a pair of doubles, and a solo home run way out to left field, his second four-bagger of the 2014 campaign.
Leonida's homer broke a 1-1 tie in the 4th inning following an RBI single up the middle from Myrtle Beach CF Nick Williams in the 3rd.
The tough luck losing pitcher of record, Alex "Chi Chi" Gonzalez, pitched 6.0 innings and surrendered two earned runs on seven hits while striking out eight men.
Potomac added another run in the 7th to take a 3-1 lead on an RBI bunt single for LF Randolph Oduber that scored the leadoff two-bagger for Leonida.
Nationals RHP Gilberto Mendez (SV 2) earned a two-inning save and gave up only a single to SS Hanser Alberto.
Mendez induced a popup in foul ground caught by Keyes to complete the twin-bill sweep and ensure a series victory over Myrtle Beach.
In the Game Three series finale, Nationals RHP Pedro Encarnacion (1-0, 2.00) will oppose Pelicans RHP Sam Wolff (1-1, 0.79) with first pitch scheduled for 7:05pm.
The Potomac Nationals Baseball Network, which is accessible at www.potomacnationals.com, will feature the live broadcast of Game Three on Thursday night beginning with the P-Nats Leadoff Show at 6:50pm.