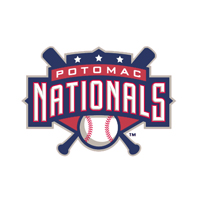 The Potomac Nationals (67-53, 29-22) survived a furious 9th inning rally by the Carolina Mudcats (54-68, 25-30) on Sunday night at Pfitzner Stadium to capture a 7-6 victory in the series finale.
The Nationals completed their ninth series sweep of the 2014 campaign and also earned their league-best 28th one-run victory of the season.
P-Nats RHP Matt Swynenberg made his first start in the red, white, and blue since the 2012 ledger. Swynenberg retired the first two batters he faced in the 1st frame on groundballs and then went on to allow three runs, two earned, to give the Mudcats an immediate 3-0 advantage.
Swynenberg did not factor into the decision after going 4.0 innings while walking two, fanning one, and unleashing one wild pitch.
Carolina C Alex Monsalve cranked an RBI triple to the gap in right-center field, DH Eric Haase deposited a run-scoring double on top of the left field chalk, and a third run scored on the errant footwork of Swynenberg following a groundball to 1B Shawn Pleffner off the bat of Mudcats LF LeVon Washington.
Mudcats starter, RHP Cole Sulser (4-12), the losing pitcher of record, gunned through 2.0 perfect innings then collapsed in the fateful 3rd stanza.
Sulser surrendered a bunt single to 3B Khayyan Norfork before issuing back-to-back walks to RF Brandon Miller and C Pedro Severino. P-Nats 2B Tony Renda ripped an RBI single into right field, LF Randolph Oduber was hit by a pitch with the bases loaded, and SS Stephen Perez nailed a go-ahead two-run single into right field to put the Nationals up 4-3.
The Nationals would score a total of seven unanswered runs after adding one run in the 4th and two runs in the 5th on an RBI sacrifice fly and a monster two-run home run off the third tier of signage in right
field off the lumber of DH Mike McQuillan. This high-arching blast was McQuillan's fifth dinger of the season.
Mudcats RHP Jacob Lee served up the McQuillan homer and was charged with three earned runs in 1.2 innings in relief of Sulser.
Carolina bullpen men, RHP Josh Martin, RHP Ben Heller, and RHP Grant Sides combined for 3.1 scoreless innings.
P-Nats RHP Cody Davis (2-0), the winning pitcher, dealt 2.2 scoreless innings while allowing just one hit, walking two, and striking out three.
Nationals LHP Bryan Harper would allow three runs in the 9th inning after fanning three of the four batters he faced in 1.1 innings behind Davis. Potomac LHP Jake Walsh (SV 1) served as the fireman stopper en route to his first save, although it was a scary one. Harper gave up consecutive singles to RF Luigi Rodriguez and 2B Jacob Roberts before walking CF Logan Vick. Walsh came in to the game and walked SS Yhoxian Medina to make it a 7-4 game. A two-run single for 3B Yandy Diaz served over the head of Renda into center field cut the Nationals' lead to one run. With two runners on and no one out, 1B Jerrud Sabourin struck out swinging then Monsalve rapped a 4-3 groundout to move two runners into scoring position. Haase was induced into a game-ending groundout to Perez at shortstop to propel the P-Nats to their 67th win of the current journey.
The traveling circus act, Cowboy Monkey Rodeo, made an appearance at the Sunday contest to entertain a crowd of 5,129.
After an off day tomorrow, the Nationals travel to Lynchburg, VA to begin a road series that will feature four games in three days. A doubleheader on Tuesday, August 19th at Lynchburg City Stadium is set to begin at 5:05pm and will pit Potomac LHP Hector Silvestre (1-1, 5.09) against Lynchburg RHP Wes Parsons (4-5, 4.52) in Game One. Nationals LHP Kylin Turnbull (2-3, 5.54) faces off with Hillcats LHP Daniel Watts (2-4, 5.29) in the nightcap.
The Potomac Nationals Baseball Network, accessible by heading online to www.potomacnationals.com, will provide live broadcast coverage of the doubleheader in Lynchburg, VA beginning with the P-Nats Leadoff Show at 4:50pm before the play-by-play at 5:05pm.