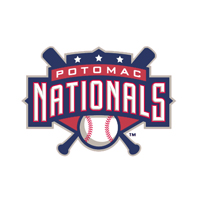 The Potomac Nationals (6-4) erased a 9-0 deficit to tie the game at nine before falling 10-9 to the Frederick Keys (3-9) on Monday night. LF Michael Burgess's solo home run in the top of the ninth was the difference.
Frederick plated eight runs in the top of the first inning. Six of the eight were charged to P-Nats starter RHP Blake Schwartz, and the other two went against LHP Kylin Turnbull. The Keys sent 12 men to the plate in the frame and scorched four doubles. The first five men reached and scored in the inning including a 3-RBI double from Burgess who drove in four on the night. 2B Jerome Peña's double brought home to in the innings as well.
After one more run in the second for Frederick, the P-Nats began their comeback with runs in each of the next five frames. While the pitching did its job to shut down the Frederick offense, Potomac's offense began chipping away at the nine run lead.
2B Tony Renda and SS Stephen Perez supplied two-out RBIs in the third to start things off. In the fourth, Potomac grabbed two more on a pair of walks and base knocks to make it 9-4. A duo of runs in the fifth innings cut the lead to three, and a CF Will Piwnica-Worms home run in the sixth made it 9-7.
The Nats then tied the game up in the seventh. LF Mike McQuillan walked on four pitches to make it a one run game. Two batters later, 1B Estarlin Martinez legged out an infield single with two outs giving Potomac their ninth run. On the play, RF Randolph Oduber hustled around third and tried to score the go-ahead run. He was cut down by 1B Trey Mancini however for the third out of the inning.
In the eighth, the P-Nats loaded the bases with nobody out and a chance to take the lead. RHP Jesse Beal (W, 1-1) got out of the jam he got himself into by striking out McQuillan to end the inning.
In the ninth, Burgess popped his thirteenth homer of the year on the first pitch he saw from RHP Travis Henke (L, 3-1). Henke and LHP Chris Manno were solid in relief for Potomac, combining to allow just the solo home run on three hits over six innings of relief.
The P-Nats brought the winning run to the plate in the ninth, but Beal got C Pedro Severino to ground out the end the second comeback threat.