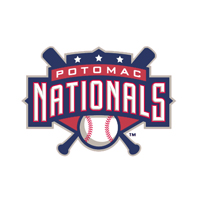 The Potomac Nationals (1-2, 1-2) outhit the Carolina Mudcats (2-1, 2-1) six base hits to three knocks in series Game Three on Saturday night at Five County Stadium but fell to the home club, 3-1.
Carolina takes the advantage in this 2014 Opening Weekend series with two wins to the Nationals' sole victory, and Potomac will look to salvage this set with a split Sunday afternoon.
Nationals LHP Brett Mooneyham (0-1), the losing pitcher, was erratic in 2.1 innings and ended up walking a total of six batters while hitting a trio of Mudcats swingers with his offerings.
Mooneyham allowed just one base hit and struck out one batter.
Conversely, the winning pitcher, Mudcats LHP Ryan Merritt (1-0) was solid through 6.0 scoreless stanzas in which he surrendered just three hits while walking one man and fanning a pair.
Merritt gave way to a trio of relievers who combined to allow just one earned run.
Carolina plated their first run in the 1st inning on a double-play ball swept by LF Antony Gallas and in the 2nd inning the Mudcats used a bases loaded RBI walk garnered by CF Logan Vick to grab an early 2-0 lead.
The bright spot for Potomac was the outstanding relief effort by RHP Dakota Bacus who made his 2014 P-Nats debut.
Bacus pitched 4.2 scoreless frames and allowed just one base hit, an infield single to SS Erik Gonzalez, who had two of the three Carolina hits. Bacus also struck out seven hitters and did not give up a walk.
The P-Nats' offense finally came to life as C Cole Leonida shot a double down the third base line and into the left field corner. Leonida was plated on an RBI two-base knock from 2B Tony Renda who has hit safely in each of the first three games of the '14 campaign.
With the Nationals trailing 2-1 in the bottom of the 8th, Carolina added an insurance run against RHP Derek Self after Self allowed C Jeremy Lucas on board with a leadoff single that took a wicked hop over the head of 1B Justin Miller. Lucas advanced on an errant pick-off attempt and after 1B Charlie Valerio walked, they both advanced on a wild pitch which set up an RBI sacrifice fly for 3B James Roberts to give the hosting club a 3-1 advantage they wouldn't relinquish.
In the 9th inning, Mudcats closer, RHP Louis Head (2 SV) got the save despite giving up an infield single to 1B Kevin Keyes and a walk to LF Will Piwnica-Worms. Leonida bashed a 4-3 groundout to finish off the Mudcats' victory.
Game Four of this season-opening series is a matinee 2:00pm start.
The Nationals will pit RHP Pedro Encarnacion (0-0, 0.00) against Carolina RHP Cole Sulser (0-0, 0.00).
The Potomac Nationals Baseball Network, which is accessible at www.potomacnationals.com, will feature the live broadcast of the Game Four series finale starting with the P-Nats Leadoff Show at 1:45pm.