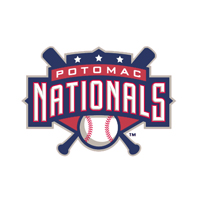 The Potomac Nationals (0-1, 0-1) were downed by the Carolina Mudcats (1-0, 1-0) 6-3 in their 2014 season opener on the road at Five County Stadium on Thursday night.
The P-Nats could not overcome a four-run 6th inning surge by the Mudcats.
Nationals RHP Ian Dickson (0-1) was the losing pitcher of record after surrendering four earned runs on two base hits while hitting a pair of batters and failing to work his way out of the 6th stanza.
Potomac RHP Brian Rauh got the starting nod and allowed just two earned runs in 5.0 frames but did not factor into the decision.
Rauh gave up six hits and a pair of walks while striking out a trio but managed to limit the damage and work out of tough spots. Despite allowing the leadoff man to reach in each of the five innings he pitched, Rauh induced an inning-ending 6-4-3 double play in the 2nd inning and managed to get 1B Joe Sever to line into a twin-killing to record the first two outs in the 4th before fanning LF LeVon Washington.
Carolina struck first with an ricocheted RBI single off Rauh in the 2nd inning that trickled into right center field off the bat of Sever which scored the leadoff single of 3B Yhoxian Medina.
In the 3rd frame, SS Erik Gonzalez lashed a run-scoring single into left field to bring home 2B Todd Hankins, who reached via a base-on-balls which gave Carolina a 2-0 lead.
The Nationals did not record a hit off of Mudcats LHP Shawn Morimando through the first three innings.
Morimando, like Rauh, did not receive a decision after striking out three and giving up two earned runs on five hits plus one walk.
Morimando and Rauh's lines were nearly identical with the only difference residing with one more hit allowed by Rauh and one more walk issued by the Nationals starting pitcher.
Potomac evened the score at 2-2 in the 4th frame when 1B Kevin Keyes cranked a triple to the gap in right center field scoring the single of 2B Tony Renda before RF Brandon Miller socked an RBI single into left field summoning in Keyes to home plate.
Mudcats RHP Josh Martin (1-0), the winning pitcher, entered the game in the 6th and popped up Keyes, struck out Miller, and got LF Will Piwnica-Worms looking at strike three.
With the game knotted at two runs per club in the bottom of the 6th, Dickson was hit to the tune of a Washington RBI single and with the bases loaded, RF Ollie Linton was hit by a pitch which garnered an RBI.
Nationals RHP Travis Henke came in with the bases loaded to relieve Dickson and served a two-run double to Hankins up the left field line.
Henke struck out CF Logan Vick to end the forgettable half-inning.
Although the Nationals got one run back in the 8th off RHP Jacob Lee courtesy of a Renda run-scoring liner into center field, Keyes blasted a line drive back to the chest of Lee who caught the baseball and fired to first base to double off Renda and end a further threat.
Potomac LHP Bryan Harper, older brother of Washington Nationals LF Bryce Harper, tossed a perfect one-two-three 8th frame.
Mudcats RHP Louis Head (SV 1) issued a two-out walk to 3B Adrian Sanchez in the 9th inning but hung a zero to earn his first save of the season after rolling Miller over and fanning Piwnica-Worms and C Pedro Severino to end the game.
Game Two of this four-game set at 7:00pm tomorrow night will pit Potomac RHP Ronald Pena (0-0, 0.00) against Carolina RHP Michael Peoples (0-0, 0.00).
The Potomac Nationals Baseball Network, which is accessible at www.potomacnationals.com, will feature the live broadcast of Game Two beginning with the P-Nats Leadoff Show at 6:45pm.