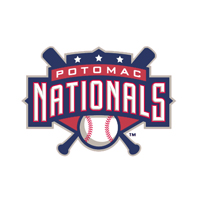 The Potomac Nationals (49-40, 11-9) bested the Frederick Keys (42-48, 10-13) by the score of 7-5 in a seesaw hitfest on Saturday evening at Harry Grove Stadium in the second game of a four-game road series. Frederick actually outhit Potomac 11 to 10 while both clubs played spotless defense in the clash.
A two-run home run off the lumber of washington nationals CF Eury Perez in the 4th frame proved to be the difference maker in the two-run victory for the P-Nats.
The Nationals scored two runs in the 1st inning off the losing pitcher of record, Frederick RHP Sebastian Vader (1-1) without the benefit of a base hit. Vader walked five batters in the opening stanza as Nationals 3B Oscar Tejeda and SS Stephen Perez lofted back-to-back RBI sacrifice flies.
Vader pitched just 3.2 innings and allowed five runs, four earned, on five hits while walking a career-high six batters and striking out just one hitter.
The Keys evened the score at 2-2 with a pair of runs against Nationals LHP Matthew Spann in the home half of the 1st inning. Frederick DH Jason Esposito fought off an inside offering from Spann and fisted the ball to the gap in left-center field for a two-run double.
Spann (6-4) went on to earn the victory after dealing 5.0 innings and surrendering four earned runs on seven hits. Spann walked five and fanned one.
Frederick poured on two more runs in the 2nd to take a 4-2 lead via an RBI sac fly from 2B Jerome Pena that delivered the leadoff infield single bounced to the six hole by SS Adrian Marin before a run-scoring 1-3 groundout from 1B Trey Mancini plated C Wynston Sawyer, who single to get board.
The Nationals took back the advantage with three run tallies in the 4th. P-Nats RF Estarlin Martinez singled back up the middle to reach first base and scored on the two-run dinger over the left field fence clobbered by Eury Perez. Potomac 2B Tony Renda singled on the first pitch he saw from Vader into right-center and was summoned home when 1B Shawn Pleffner whacked a ball through the deep hole at shortstop to propel the P-Nats to a 5-4 edge.
The visiting club garnered an insurance run an inning later in the 5th on a bases loaded RBI groundout from C Pedro Severino on a check swing. Keys RHP Matt Hobgood fielded the baseball and ran it to first base himself.
Hobgood was on the mound for 3.1 innings and allowed that one earned run on three hits while walking two batters.
In a wild bottom of the 7th inning, Fredrick missed a big opportunity to at least tie the game and Nationals RHP Travis Henke escaped with just one earned run to his line. Four straight hits were collected off Henke to begin the half-frame; a leadoff double from Mancini, an RBI two-bagger sprayed to the alleyway in left-center by LF Michael Burgess, a flared single to shallow right field from Esposito, and a scorched lazer beam by 3B Joel Hutter into left-center. On the base hit the other way by Esposito, Burgess was waved to home plate and Martinez delivered a one-hop bullet throw to Severino who applied the tag on Burgess for the first out. Had Burgess been held at third base, the Keys would have been down just one run with runners occupying the corner bags and no outs. After the Hutter knock, LHP Chris Manno took over out of the Nationals' bullpen. Manno's first offering was in the dirt to Marin and as if there was a missed sign on a double-steal attempt, Hutter took off from first base while Esposito stood on second base motionless. Severino charged at Hutter, looked Esposito back to second base, threw to Pleffner at first base, and with Esposito then breaking for third base, Pleffner gunned out the lead runner as Hutter moved up to second base (a 2-3-5 putout). Manno then induced a line out that knuckled into the glove of Eury Perez in fairly deep center field to end the threat and maintain the 6-5 lead for the Nationals.
Manno slung 1.2 scoreless innings and did not allow a baserunner.
Keys RHP Matt Price allowed an additional run of insurance in the 8th inning as Pleffner struck his second RBI single of the game into right-center clearing the head of Pena to send Severino plateward.
Up 7-5, the P-Nats brought in fireman, RHP Gilberto Mendez (SV 6) to close the proceedings out.
Mendez got Frederick CF Glynn Davis on a first-pitch groundout to third base before walking Mancini. Mendez then induced a popout by Burgess to shallow right field on just one pitch to record the second out. Esposito hit a geyser to right-center field that was caught on the run by Martinez to seal the Nationals "W."
Mendez clinched his sixth save of the 2014 campaign by finishing the contest.
The Nationals own a two games to none advantage in their current bus trip set and improve to (6-5) head-to-head with the Frederick Keys in 2014.
Game Three is set for Sunday afternoon at 4:00pm inside the confines of Harry Grove Stadium as Nationals RHP Ian Dickson (1-7, 5.99) battles Keys RHP Mark Blackmar (5-1, 4.06).