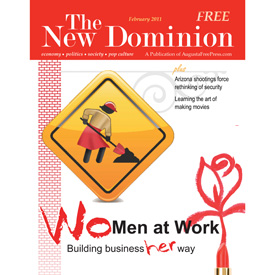 The February issue of The New Dominion Magazine is on the streets at locations in Waynesboro, Staunton and Harrisonburg – and is also posted online at
This month's features:
Women at work: Two women share their experiences climbing the corporate ladder
Profiles of new Greater Augusta Regional Chamber of Commerce president Linda Hershey and new Mathers Team president Teresa Gauldin.
 
Lens crafters: Local club learning art of making movies the hands-on way
Inside the 2011 Waynesboro Short Film Competition – with a local filmmaking club that will be entering a film in the competition.
 
Arizona aftermath: Shootings force rethinking on interactions between politicians, citizens
The New Dominion talks with local elected leaders and security experts to make sense of what can be done to keep people safe when dealing with local government.
 
Market niche: Music teacher meets need with strings business
The strings teachers at Eastern Mennonite University had a problem. One of the teachers figured out a way to solve the problem – and started a business in the process.
 
Dynamic duo: Comic-book fans put up a shingle in Staunton 
When they first broached the topic a year and a half ago, it wasn't anything even remotely serious. A comic-book shop? Sure. Every little boy who gets hooked on his first Superman or Mad dreams of opening a comic-book shop.
 
Keeping it real: Charlottesville acting, modeling school pushes self-esteem
The curriculum at Cville Performing Arts includes a range of acting and modeling classes for children, teens and adults.