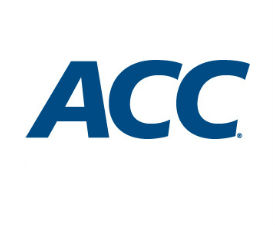 The University Louisville's long-awaited entry into the Atlantic Coast Conference becomes official today.
"We have looked forward to this day since November of 2012, when our Council of Presidents voted to accept Louisville as a member of the Atlantic Coast Conference," said ACC Commissioner John Swofford. "We are a stronger conference with the addition of this university and its athletic program, which continues to reach new heights and rank among the nation's most competitive. We are well-positioned for the future, 15 members strong, with a unique balance of public and private institutions."
A full schedule of activities is planned, beginning with an 11 a.m. press conference at the Schnellenberger Football Complex's Recruiting Lounge. Swofford will join University of Louisville president James Ramsey and athletics director Tom Jurich at today's press conference.
The day's schedule will conclude with a late afternoon/early evening celebration at Fourth Street Live! in downtown Louisville that will herald the Cardinals' conference membership. Admission is free to the downtown celebration, which begins with live entertainment and video presentations at 5 p.m. with Louisville's in-stadium DJ, K-Dogg, followed by a program at 6 p.m.   The program will include remarks from Swofford, Ramsey and Jurich. The celebration will also feature the ACC's mascots, special messages from Louisville coaches and student-athletes, fan giveaways, and plenty of surprises.
A concert featuring the Louisville Crashers will cap the celebration on the main stage following the program.  There will be food and beverage specials at participating establishments in Fourth Street Live!
Monday saw the arrival of the ACC's 15 mascots, who will continue making their rounds throughout the day on Tuesday. The mascots are scheduled to make stops at historic Churchill Downs and the Louisville Slugger Museum, Louisville athletic venues such as Papa John's Cardinal Stadium and KFC Yum! Center, as well as on-campus visits to Grawemeyer Hall and the University of Louisville Autism Center at Kosair Charities.
Those unable to attend today's press conference can watch live via the ACC Digital Network on theACC.com. ACC fans can also keep up with all of the day's activities throughout the city on Twitter by following @theACC. All are encouraged to search and use the hashtag #Cards2ACC for frequent updates and to join in the conversation.
"The past two years have been ones of tremendous growth for our conference, and Louisville adds another page to that chapter," Swofford said. "This is a special day for the ACC, Louisville and our collective 15 member institutions."