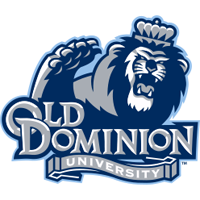 Old Dominion held Eastern Michigan scoreless for three quarters and to just 217 total yards as the Monarchs recorded a 17-3 victory over the Eagles on Saturday night at Foreman Field at S.B. Ballard Stadium.
ODU took a 7-0 lead at the 7:23 mark in the first half off a 55-yard run by Ray Lawry and held that lead all the way to halftime. The Monarchs' defense held EMU to just six first downs and 113 yards of total offense. D.J. Simon led the defense with six tackles, while T.J. Ricks tallied four tackles by the intermission.
Ricky Segers would give ODU a 10-0 lead with 11 seconds left in the third quarter by making his first career field goal attempt. EMU kicker Dylan Mulder would answer with a field goal at the 9:13 mark in the fourth quarter to make the score 10-3 in favor of ODU. The final score was reached when Antonio Vaughan scored off a 46-yard punt return. That marked his second punt return of his career.
Taylor Heinicke threw for 187 yards (17-30-1), with his longest being 47 yards. David Washington made four catches for 23 yards, while Vaughan led all receivers with 54 yards on two catches. Gerard Johnson led all rushers with 85 total yards. Lawry recorded 69 yards on the ground, while Vaughan and Cam Boyd tallied 21 and 15 yards, respectively. Simon led the Monarchs' defense with 11 tackles, while Ricks notched 10. Martez Simpson tallied eight and Fellonte Misher had seven.
Brogan Roback threw for 56 yards and went 9-of-17, while Rob Bolden went 3-of-7 for 16 yards for the Eagles. Darius Jackson led EMU's recievers with 15 yards off two catches and Bronson Hill led the rushers with 78 yards on 16 carries. Great Ibe led the defense with 11 tackles, including two for a loss. Pat O'Connor had nine tackles and recorded the only two sacks of the contest.