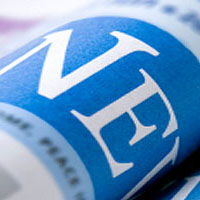 The North Augusta Farmers' Market will hold a special Winter Market and Craft Sale on Wednesday, December 3rd, noon-6pm at the American Hotel Banquet Room, 125 S. Augusta St., Staunton.
The market will feature a wide variety of locally produced food items and crafts just in time for holiday shopping. The following vendors are on tap for the event:
Ulmer's Mountain View Farm (poinsettias)
Farmer Brown (jams, jellies)
Feather Stein (jewelry, blacksmithing crafts)
The WoodArt Studio (wood crafts)
Shenandoah Valley Soap Company, LLC (soaps)
Hot Wired Art (jewelry and wire art)
Pam Mader (wreaths, holiday swag, painted furniture)
Roller's Bakery (baked goods)
Nu-Beginning Farm (jams and canned items, baked goods)
Grazelen Farm (sausage, eggs, horseshoe crafts)
Shenandoah Meadows Grain Company (granola, breads)
Kathryn Pigg (Christmas cards, paper & glass ornaments)
Rebecca Schneider (handpainted ornaments and ceramic figures)
Paris Carter (fresh breads)
Fretwell-Forbes Christmas Wreaths (holiday wreaths and swag)
The Winter Market and Craft Sale is an activity of the partnership between Project GROWS, a nonprofit community farm with the mission of improving the overall health among children and youth in Staunton, Waynesboro, and Augusta County by connecting children and youth to the food they eat, and the North Augusta Farmers' Market (NAFM) in Verona, a weekday market that has been around for ten years. The NAFM is held each Wednesday April through October from noon-5pm at the Augusta County Government Center. In 2014, the market-teaching farm partnership experienced one of the most profitable market seasons in NAFM history by emphasizing an expanding variety of producers and conducting targeted community outreach to make more local residents aware of the market.
Watch for announcements of more vendors and additional activities planned for the Winter Market and Craft Sale on the North Augusta Farmers' Market Facebook page. For more information about the North Augusta Farmers' Market and opportunities to participate in 2015, contact Ryan Blosser, [email protected] (540) 280-8056.