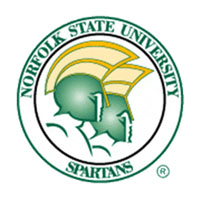 When you lose nearly 80 percent of your scoring, chances are people will have plenty of questions about your team as you look to replenish the roster for the following season. Although the Norfolk State men's basketball team, from an outside perspective, may have a significant amount of concern, the coaching staff is confident there will be little to no drop-off after losing the winningest senior class in Division I history.
Gone are all-MEAC guards Pendarvis Williams and Malcolm Hawkins as well as all-conference center Brandon Goode. Despite the loss of those three as well as departed seniors Anell Alexis, Riley Maye and Marese Phelps, a trio that combined for nearly 16 points per game, NSU will not be lacking for talented players to fill out the box score this year.
Of the 2,428 points NSU scored as a team last year, a total of 1,896 of those points, or 78.1 percent of the team's overall production, was scored by last year's now-departed, seven-player senior class. Those players led NSU to its third straight postseason appearance, a spot in the CollegeInsider.com tournament, and set program Division I records for most assists and fewest turnovers per game while scoring more points per game (71.4) than any time in the last 13 years.
Heading into 2014-15, NSU will have plenty of options when it comes to determining a starting five with a bench rotation. The key coming into the season, however, is getting eight players who have never suited up for the Spartans to mesh quickly with seven returning players, five of whom have combined for just 14 starts and less than 300 points in their NSU careers.
With a very athletic set of newcomers joining the mix and what appears, on paper, to be plenty of depth, the biggest concern for head coach Robert Jones is determining everyone's role before the start of the season.
Guard/Perimeter
Redshirt senior Jamel Fuentes returns as the team's most senior player on the roster. The starting point guard the last two years, he is now fifth all-time at NSU in assists. He will be counted to provide stability to the lineup as the regular rotation shakes out over time. Fuentes finished last year with 6.0 points, 4.8 assists, 3.0 rebounds and 1.1 steals per game.
The program's two other returning guards are also redshirt seniors in Kievyn Lila-St. Rose and Jordan Weathers. Lila-St. Rose averaged 3.0 points and 1.9 rebounds in 27 games in a reserve role last year but will be in a dogfight for playing time among a deeper lineup this season. Weathers started three games last year and tallied 4.0 points and 3.2 rebounds in nine games before missing the rest of the year due to injury. Unfortunately, he will miss the entire 2014-15 season after re-aggravating the same injury.
Although the Spartans welcome eight newcomers, three will not be lacking for collegiate experience. Graduate transferMalik Thomas arrives at NSU for one season after competing at Boston University the last several years. One of the many combo wing players Jones has on the roster, the 6-foot-7 Thomas averaged 7.3 points and 5.3 rebounds in 2013-13 as a redshirt sophomore and 5.8 points and 4.0 rebounds last year.
After sitting out last season while at NSU, redshirt junior Jeff Short will join the Spartans this year looking to make up for some of the perimeter scoring lost from Williams and Hawkins. Short averaged 5.6 points at Fordham during his redshirt freshman year in 2012-13 and has already proven in the preseason he can be one of the team's top scorers.
One of the most athletic players on the team is junior college transfer D'Shon Taylor. A shooting guard/small forward combo, Taylor competed at a pair of junior colleges, averaging 7.4 points and 3.2 assists while shooting better than 45 percent overall in his sophomore season last year at Garden City CC. Like Short, Taylor will be counted on to make up for the lost production from 3-point range with the graduations of Williams and Hawkins.
Freshmen Malik Gray fits into the athletic wing mold that will allow Jones to get out and run on offense. At 6-6, Gray owns plenty of wingspan, and the local native can play inside and step out and shoot from long range.
Freshmen Zaynah Robinson and Devonte Banner add a couple more bodies to the 1 and 2 guard positions. Robinson is a 5-11 point guard from Duluth HS in Georgia who can also shoot, averaging 13.8 points in his senior year. He will spell Fuentes at the point guard position throughout the year. Banner was a recruited walk-on from Mt. Vernon HS who can also shoot from outside, averaging 12.9 points as a senior.
Forward/Center
Along with Fuentes, NSU's other key contributor back is junior forward RaShid Gaston. Out of the lineup for nearly two months last year due to injury, the 6-9 bruiser is healthy and ready to become one of the team's go-to players after averaging 8.4 points and 6.5 rebounds in 20 games last season.
The program's three other returnees include senior forwards LaTre'e Russell and Paulius Vinogradovas and junior forward Hefeng Sun. Vinogradovas saw limited time in 23 games last year and returns as NSU's only true option at the traditional center position. A junior college transfer, Russell played in 11 games and showed promise before sitting out the spring semester. Sun competed in six games and saw limited action.
One freshman drawing buzz is the 6-6, 240-pound Jordan Butler. As imposing as Gaston was his rookie season, Butler is also a solid rebounder who can also score, averaging 16.6 points, 14.3 rebounds and 3.8 blocks his senior year at Glastonbury High in 2012-13 before competing at Putnam Science Academy last season during his prep year.
The Schedule
NSU will compete at Saint Peter's as part of the Barclays Center Classic on Nov. 28-29. The tournament also includes stops for NSU at Virginia and at Vanderbilt earlier in the season. Before the start of conference play in January, NSU will play four straight games away from home at James Madison, Baylor, Georgia and Princeton. The Spartans also play road contests at Hofstra and Mount St. Mary's in December.
Non-conference home contests this year include return games from Boston University and Texas Southern, two non-Division I opponents in Pfeiffer (season opener) and U.Va.-Wise as well as a contest against Northern Arizona.
The Spartans also host Morgan State and Coppin State in December in conference play and North Carolina Central and North Carolina A&T in January. NSU will play three straight MEAC games at home with Hampton, Howard and UMES in late January and early February. The Spartans close out the year with four of five games on the road, with a contest against Delaware State the only home game within the last three weeks of the year.
NSU makes road trips to Bethune-Cookman/Florida A&M and South Carolina State/Savannah State this year. The Spartans also return the home-and-home favor to Coppin State and Morgan State as well as Hampton and Howard late in the year.