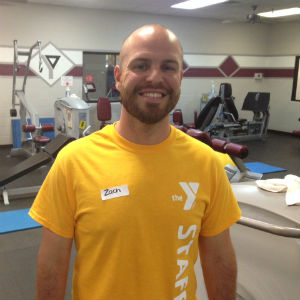 Zach Hunt, the new certified athletic trainer at the Waynesboro YMCA, knows well that health and fitness don't come easy.
"I've been that person that was bigger. I was 210 pounds at one time. Now I'm a buck seventy-five. It's a struggle every day. That's what people don't understand," said Hunt, who comes to the Waynesboro Y from a recent stint as an athletic trainer at Ohio Northern University.
Hunt said his approach to working with personal-training clients is to be honest and up front about the attention to detail that getting and staying fit requires.
"It's hard for anybody to say no to the Snickers bar, to the soda, me included," Hunt said. "I can relate that personal experience. I've been there. I know what you're going through. Being able to relate on that is a big upside."
A 2006 graduate of Anderson University (Anderson, Ind.) with a B.A. degree in athletic training, Hunt was a clinical outreach athletic trainer at Waynesfield-Goshen High School for Lima Memorial Health Systems for four years before joining the staff at Ohio Northern, where he worked with the cross country, wrestling and tennis teams.
A newcomer to Waynesboro, Hunt lives in the Tree Streets walking distance from the YMCA. In addition to working with personal-training clients, Hunt will maintain a regular schedule of floor hours where he will be available to answer questions from Y members during their regular workouts.
The approach is individually focused.
"It all depends on the individual, what they want, what their goals are," Hunt said. "I've worked with high school and college athletes, 55- to 65-year-olds, and everybody in between. I've worked with all age groups and skill and goal levels. It's up to the individual and what they want out of it. I try to create some goals for them to reach, and my job is to help them meet those goals."
More online at WaynesboroYMCA.com.