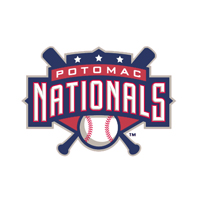 After winning their three-game set with the Myrtle Beach Pelicans (8-6, 1-6) with a sweep of the de facto doubleheader last evening at TicketReturn.com Field at Pelicans Ballpark, the Potomac Nationals (8-6, 4-3) got hammered 9-2 in their series finale on Thursday night.
The P-Nats offense mustered just six base hits, while the Pelicans collected 15 knocks including a pair of home runs.
Nationals RHP Pedro Encarnacion (1-1), the losing pitcher, flirted with trouble all night and ended up allowing four earned runs on seven hits while walking four, fanning a pair, and serving up a solo home run to 3B Joey Gallo.
In the 1st frame, CF Nick Williams laced an RBI single into the left center field gap before Gallo blasted a high-arching popup that kept traveling in a light breeze out to right field and despite Potomac RF Brandon Miller scaling the wall like Spider-Man, the baseball bested the barrier to give Myrtle Beach an early 2-0 lead.
The winning pitcher, Pelicans RHP Sam Wolff (2-1), was very effective through 7.0 stanzas.
Wolff surrendered four hits and Potomac collected back-to-back knocks just once.
The righty walked two and struck out three to keep his ERA at a sub-1.00 figure. (0.98)
Myrtle Beach put together two more runs in the 3rd as the texas rangers number two overall prospect, C Jorge Alfaro (Baseball America) ripped a two-run single into right center field to put the Pelicans up 4-0.
The first hit of the game for the Nationals was a run-scoring single in the 4th deposited into center field by Miller to make it a 4-1 game.
A crooked run spot in the 6th inning of five runs for the home club put the game out of reach for Potomac.
Against RHP Travis Henke, Williams lofted an RBI ground-rule double that hopped off the warning track and over the wall in right field before 1B Preston Beck socked a grand slam home run in the aftermath of an intentional walk issued to Gallo.
This was the second four-RBI homer allowed by P-Nats pitching in 2014 as Carolina Mudcats C/1B Jeremy Lucas cranked a grand slam on Potomac's latest homestand.
Potomac RHP Derek Self was the bright spot out of the bullpen. He fanned five of the six batters he faced in a pair of scoreless innings.
Myrtle Beach RHP Jason Knapp hung a zero in the 8th in relief.
Down 9-1 the Nationals plated an unearned run in the 9th against RHP Ryan Bores on an errant throw by SS Hanser Alberto. CF Randolph Oduber's infield single catalyzed the run but no RBI was awarded.
Potomac 2B Khayyan Norfork lined out to his opposite number in 2B Christopher Bostick to end the game and give the birds their first home victory of the 2014 season.
The Nationals motor to Lynchburg, Va tonight to prepare to punch in against the Lynchburg Hillcats (Atlanta Braves) for a four-game series to complete this two-city road trip beginning tomorrow night.
First pitch from Calvin Falwell Field at Lynchburg City Stadium is set for 6:05pm on Friday evening.
Nationals LHP Nick Lee will face off with Hillcats RHP Andrew Waszak in Game One.
Broadcast coverage accessible at www.potomacnationals.com will begin at 5:50pm with the P-Nats Leadoff Show.