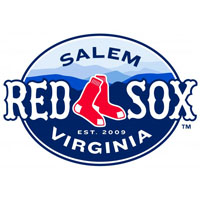 Myrtle Beach
surged ahead early and never trailed on Sunday at LewisGale Field en route to its sixth straight win, dispatching Salem 9-5 in the penultimate game of the Sox's week-long homestand. Four different Pelicans finished with multiple hits, while the Sox missed numerous opportunities in stranding 10
men
on base. A little over a week after the Sox swept the Birds in four straight in South Carolina, the Pelicans will look to return the favor on Monday morning, when the squads reunite for the series finale in
Virginia
.
The two teams scored runs in seven of the first 14 half-innings through the seventh, but Myrtle Beach's four-run fourth was the biggest frame of the day. The Pelicans used a bunch of singles and a slew of wild pitches to take a 6-1 lead. Even when the Sox countered with two in the last of the fourth, the 6-3 lead felt spacious for the Pelicans.
Up 7-3 to begin the seventh, Joey Gallo clocked his fourth homer of the season to lead off the inning, giving Myrtle a five-run cushion. Later in the frame, Royce Bolinger's double preceded Zach Cone's sacrifice fly to give the Pelicans a 9-3 edge, their largest advantage in the game.
Salem answered with a pair in the last of the seventh–Jonathan Roof drove in
Jayson Hernandez
with an
RBI
double and
Aaron King
scored on Carson Blair's sac fly–but the Red Sox also left two
men
on base. Salem also stranded two in the sixth, one in the eighth, and three in the ninth.
In their final chance, the Sox loaded the bases with one out, bringing the tying run to the plate.
Mario Martinez
struck out against Jose LeClerc, and
Ryan Dent
lined to shortstop to end the game.
In relief,
Myrtle Beach
left-hander
Luis Parra
tossed four innings, permitting two runs, to earn the win. Salem starter
Brian Johnson
was tagged for six runs (five earned) on seven hits over four frames, suffering his first setback of the season.
Salem will look to salvage to the final game of the series on Monday at 11:05 AM, a rare weekday
baseball
brunch at LewisGale Field.
William Cuevas
will make the
start
for the Sox, while
Victor Payano
will get the ball for the Birds.