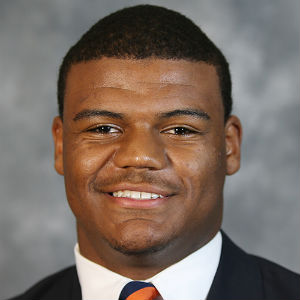 UVA inside linebacker Micah Kiser has been named to the preseason Lombardi Award Watch List, an annual award given to an outstanding collegiate performer that exhibits great leadership attributes.
Kiser has previously been named this summer to the 2016 Bednarik Award, Butkus Award, Nagurski Trophy and Lott IMPACT Trophy Watch Lists.
Kiser (Jr., Baltimore, Md.) was a first-team All-ACC honoree after leading the league with 9.75 tackles per game as a sophomore. Kiser started all 12 games and along with Blanding became the nation's only defensive duo to finish the year ranked No. 1 and No. 2 in tackles for their respective conferences.
The Rotary Lombardi Award began in 1970 by the Rotary Club of Houston to honor NFL coach Vince Lombardi and to recognize outstanding college football linemen. The award began as recognition to only interior line positions that Vince Lombardi played while an undergraduate at Fordham University (offensive and defensive guard), and later expanded to include linebackers and tight ends, with the addition of including non-performance values: leadership, courage, desire, respect for authority, and discipline.
The 47th Annual Rotary Lombardi Award continues the evolvement of the Lombardi legacy by expanding this season the eligibility of the award to all player positions that are outstanding performers and exhibit great leadership attributes. Following the preliminary watch list, a nomination period will open to the internal selection committee to add additional players who meet the skill and leadership standards set forth for the Rotary Lombardi Award.
The award ceremony date will be announced later in the football season along with updated lists of award candidates.