Gov. Terry McAuliffe was honored this weekend at PrideFest for his record of standing in strong support of the LGBTQ community.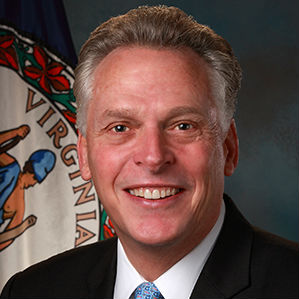 The governor was presented with the Firework Award, which is given annually by Virginia Pride to leaders who fight for LGBTQ equality.
"Everybody deserves to live life with zero discrimination," said Governor McAuliffe, who this year stood up against a "bathroom bill" even more extreme than North Carolina's HB2 and vetoed legislation that would have given taxpayer-funded organizations, such as homeless shelters and adoption agencies, a license to discriminate against same-sex couples.
According to Style Weekly, "devotion to equality is a goal to which McAuliffe has stayed true." The publication noted that the governor has used executive orders to offer protections for LGBTQ state employees and has required all state contractors to do the same.
"Governor McAuliffe and the Democratic Party of Virginia are proud to stand in strong support of the LGBTQ community," said DPVA Chairwoman Susan Swecker. "Governor McAuliffe has been a brick wall against a discriminatory legislative assault, and his veto pen was the only thing preventing these Republican bills from becoming law. That's why it's so important we elect Democrats like Ralph Northam, Justin Fairfax, and Mark Herring who will continue to fight for an inclusive Commonwealth in which everyone – no matter who you are, where you're from, or whom you love – has an equal shot at opportunity and success."