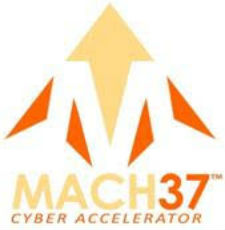 The MACH37™ Cyber Accelerator announced Tuesday the launch of its Platinum Sponsorship Program to allow a select group of companies that are national leaders in advancing cybersecurity to fully participate in the development of the next generation of cybersecurity solutions.
In making the announcement, Rick Gordon, Managing Partner of MACH37™, said, "The MACH37 Cyber Accelerator is recognized globally as the program to launch innovative cybersecurity products into rapidly expanding cyber markets. We have created this opportunity to infuse new technology into existing market leaders resulting in a more rapid deployment of solutions during a time when next generation cybersecurity technology is desperately needed."
Gordon said that a primary reason that the accelerator is recognized as the leader for cybersecurity investment and company development in the U.S. is due to the local mentorship provided by the densest concentration of cybersecurity professionals in the world.
"We are fortunate to integrate our entrepreneurs with the community of great cybersecurity companies, including Mandiant (now Fireye), Invincea, SourceFire, Lookingglass, iSIGHT, SourceFire (now Cisco), Cyberpoint and Silent Circle," he said.
The Platinum Sponsor Program is designed to fully integrate sponsors with the operation of the Accelerator starting with interaction with Accelerator candidates through partnership, investment and joint venture opportunity development.
Pete Jobse, MACH37™ Executive Chairman, said, "Over the weekend, we read news that the Chinese breached the data of 4 million federal workers. Clearly, the extent of cyber crime has reached the level that requires industry leaders to pursue all innovative channels to protect private and public assets. The Platinum Sponsor Program bridges the innovation and creativity of the startup community with the market presence and growth objectives of industry leaders. This is a special opportunity to demonstrate cybersecurity leadership."
About MACH37™: MACH37™ is the premier accelerator for information security entrepreneurs and startups.  We go beyond the traditional model of typical business accelerators by bringing our innovators focused mentorship and support from our extensive network of visionaries, practitioners, and successful entrepreneurs in security.  Our Spring and Fall sessions are designed to propel graduating companies into the marketplace, equipped with the skills to grow and compete for funding and market share. MACH37™ was launched in 2013 by the Center for Innovative Technology, in Herndon, Virginia.  To learn more, please visit www.mach37.com and follow @MACH37cyber on Twitter.