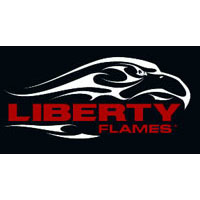 Beginning with Liberty's men's basketball game on Jan. 3, 2015 (vs. Presbyterian), Liberty Flames Sports Network radio broadcasts will move from the Victory FM Radio Network to WLNI and WFIR radio stations.
WLNI can be heard in the greater Lynchburg area on 105.9 FM, while WFIR covers the greater Roanoke market on 960 AM and 107.3 FM (alternative station in Roanoke – WVBE 610 AM/97.3 FM for broadcasts on Jan. 3, 10, 22 and Feb. 14, 28).
Due to conflicts with existing programming on WLNI and WFIR, several of the Liberty Flames Sports Network men's basketball radio broadcasts will still air on WRVL/Journey FM (88.3 FM) to assist with the transition.
Below is a complete men's basketball radio broadcast schedule for the remainder of the 2014-15 season:
Jan. 3 vs. Presbyterian – 7 p.m. (WLNI/WVBE)
Jan. 8 at UNC Asheville – 7 p.m. (WLNI/WFIR)
Jan. 10 vs. Coastal Carolina – 7 p.m. (WLNI/WVBE)
Jan. 14 at Charleston Southern – 7:30 p.m. (WLNI/WFIR)
Jan. 17 at Longwood – 5 p.m. (WLNI/WFIR)
Jan. 22 vs. Winthrop – 7 p.m. (WRVL-Journey FM/WVBE)
Jan. 24 at Radford – 4:30 p.m. (WLNI/WFIR)
Jan. 29 vs. High Point – 7 p.m. (WLNI/WFIR)
Jan. 31 vs. Charleston Southern – 7 p.m. (WLNI)
Feb. 4 at Winthrop – 7 p.m. (WLNI/WFIR)
Feb. 6 at Presbyterian – 7 p.m. (WLNI/WFIR)
Feb. 10 vs. Campbell – 8 p.m. (WLNI/WFIR)
Feb. 14 at Coastal Carolina – 3:30 p.m. (WLNI/WVBE)
Feb. 17 vs. Longwood – 8 p.m. (WLNI/WFIR)
Feb. 21 at Gardner-Webb – 7 p.m. (WRVL-Journey FM/WFIR)
Feb. 26 vs. Radford – 7 p.m. (WLNI/WFIR)
Feb. 28 vs. UNC Asheville – 3 p.m. (WRVL-Journey FM/WVBE)
March 4-8 – Big South Men's Basketball Championship (Conway, S.C.) (WLNI/WFIR)
Bold indicates home games