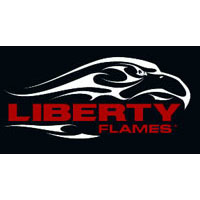 Liberty football coach Turner Gill has announced coaching staff reassignments heading into the 2016 season.
Gill has named Joe Dailey as the program's new offensive coordinator and offensive play caller, while Aaron Stamn has been tabbed as Liberty's new special teams coordinator.
Dailey will continue in his role as Liberty's quarterbacks coach, while Stamn will remain as the Flames' tight ends and fullbacks coach.
"As we look forward to a new year filled with new opportunities, the entire football staff will be a vital part of our team's effort to achieve great results," stated Gill.
Stamn and Dailey both joined Gill's staff when he was named the program's eighth head football coach on Dec. 14, 2011.
Stamn took over as Liberty's offensive coordinator early in the 2012 season, while Dailey was elevated to the position of passing game coordinator in January 2014.
Under Dailey's direction, Flames' starting quarterback Josh Woodrum finished his career as a four-year starter and the program's all-time leader in passing yards (10,266), completions (833) and attempts (1,304).