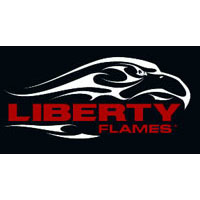 Liberty's defense controlled the pace of play on Saturday at William "Dick" Price Stadium, allowing the Flames to pick up their first win of the 2014 season with a 17-0 shutout victory over Norfolk State.
The win gave head coach Turner Gill his second shutout at Liberty and the program its 23rd shutout overall. Liberty is now 1-1 on the season, while Norfolk State is 0-2 and has yet to score a touchdown this season.
The shutout also provided the Flames with their first non-conference road win over an in-state Division I program since Liberty defeated Norfolk State, 17-6, on Nov. 8, 1997.
The two teams combined for 495 yards. Liberty finishing the game with 280 total offensive yards on 51 plays (5.5 yards per play) to Norfolk State's 215 yards on 61 plays (3.5 yards per play).
Liberty quarterback Josh Woodrum finished the game 14-of-25 for 208 yards and a fourth quarter touchdown pass. The total leaves the junior 66 yards away from becoming the seventh quarterback in program history with 5,000 career passing yards (4,944).
Norfolk State's Terrance Ervin was 10-of-16 for 56 yards, while throwing one interception and being sacked six times.
D.J. Abnar finished the game with 15 carries for 38 yards, while Woodrum rushed six times for 26 yards, including his seventh career rushing touchdown.
Aaron Daniels led the Spartans rushing attack with 11 carries for 75 yards, followed by nine rushes for 43 yards by Terry Polk. Ervin carried the ball 21 times for 27 yards.
Darrin Peterson finished the game with four receptions for 69 yards, pushing him over the 1,000 career receiving yards mark (1,050 yards). Tight end Dexter Herman followed with three receptions for 40 yards. Norfolk State's top receiver was Isaac White who had five receptions for 25 yards.
Liberty's defensive line continually pressured Erwin during the game, as the unit finished the contest with all six of the Flames' sacks and seven total tackles for a loss.
Linebacker Dylan Lewellyn led the Flames overall, finishing the game with a career-best 11 tackles (six solo, five assisted).
Defensive linemen Toby Onyechi and Chima Uzowihe followed with six stops each. Onyechi also had two sacks, while Uzowihe finished with a team-best 2.5 sacks.
Norfolk State's top defender was Marcell Coke, who had nine tackles (five solo, four assisted). Spartan linebacker Lynden Trail, who was a national defensive player of the week last week, was limited to five stops, including a shared sack.
Norfolk State looked like it might score on its first possession of the game, as the Spartans drove into the red zone after forcing Liberty to punt after a three-and-out series.
However, the eight-play, 51-yard drive came to an end when All-America safety Jacob Hagen stripped Daniels on a run up the middle and the loose ball was picked up by Tyrin Holloway.
The drive would prove to be the last time the home team would find the red zone during the remainder of the afternoon.
Liberty responded by piecing together a 17-play, 88-yard drive that resulted in freshman Avery Echols' first career field goal. The 22-yard kick gave Liberty a 3-0 edge with 1:25 left to play in the first quarter.
The game's second turnover set up Liberty's next scoring opportunity. After two straight three-and-out series by the Flames, Hagen jumpstarted the offense by intercepting a pass by Ervin over the middle of the field.
Woodrum found Dante Shells open downfield for a 43-yard reception on the next play, followed by a seven-yard touchdown run by Woodrum to give Liberty a 10-0 lead with 6:39 left to play before intermission.
Norfolk State started to make an offensive push in the second half; however, Liberty's defensive line showcased their talents when it mattered.
On the first three drives of the second half for Norfolk State, the Spartans got into Flames' territory only to have a defensive lineman record a tackle for a loss on a third-down play to spoil each scoring attempt.
After a Trey Turner punt pinned Norfolk State at its own one-yard line, Liberty had prime field possession on its next drive that started at midfield.
Following two runs by Abnar, Woodrum rolled to the near side of the field. With the defense in chase, Abnar was able to get open on the far side of the field where Woodrum found him for a 22-yard touchdown pass.
The running back's first career touchdown reception gave Liberty a 17-0 lead at 5:52 and sealed the Flames' victory.
The Flames return home next weekend to host Brevard College in their 2014 home opener. Liberty closed its 2013 home schedule with a 59-21 victory over the Tornados on Nov. 16 at Williams Stadium.