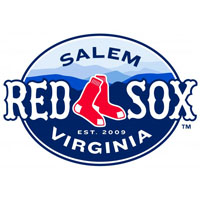 Carson Blair hit a solo home run over the left field wall in the top of the ninth inning to give the Salem Red Sox a 2-1 win over the Wilmington Blue Rocks. Blair was 3-3 with a walk to help snap Salem's five game losing streak.
Kyle Kraus was outstanding in relief, picking up the win after two and a third of scoreless ball. Blake Wood picked up the loss for Wilmington. Kyle Martin finished off the Rocks in the ninth for his sixth save.
Joe Gunkel was great for the Sox in a no decision. The right-hander bounced back from a rough outing, allowing a lone unearned run on two hits in five and two thirds inning pitched. Jonathan Dziedzic was excellent for Wilmington as well, allowing just a run on seven hits in six innings of work. Dziedzic picked up seven strikeouts.
It took just three batters for the Sox to strike first. Matty Johnson singled to lead off the game, followed by a single by Mike Miller. With first and third, Jantzen Witte hit a sacrifice fly to right feel to score Johnson and give the Sox a 1-0 lead.
The game stayed tied 1-0 until the sixth. Jack Lopez reached on an error by third baseman Mario Martinez, and was sacrificed to second by Raul Mondesi. A batter latter, Bubba Starling singled home his second run of the series to tie the score at one. The Rocks would eventually load the bases without another hit in the frame. A hit by pitch and a walk loaded them up, but Kyle Kraus came in and got Ramon Torres to ground out to end the threat.
Both teams would threaten in the seventh and eight but nothing came of it. The Blue Rocks put a runner on third in the seventh and eight, with the Sox getting a runner to third in the seventh as well. None would score. Wilmington would end up stranding a runner on third in their final four turns at bat.
In the ninth, Carson Blair would put the Sox up with a solo home run to lead off the frame. Salem put a runner on base but went to the bottom of the ninth up 2-1.
Kyle Martin walked Daniel Rockett to start the ninth inning. Rockett stole second, to put a runner in scoring position with no one out. Rockett moved to third on a groundout with two outs. A batter later, Martin hit Mondesi to put the winning run on base, but Bubba Starling struck out to end the game.
The win snapped Salem's five game skid and avoided a season low watermark below .500. These two teams play game three of the series tomorrow at 5:05. Cody Kukuk gets the ball for the Sox with Miguel Almonte going for the Rocks.