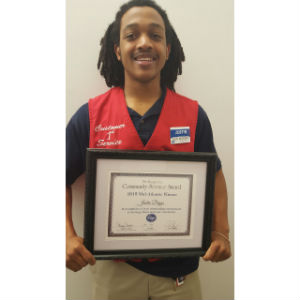 Justin Diggs, a cashier at the Arch Avenue Kroger in Waynesboro, has been selected as the 2015 winner of the Community Service Award by the Mid-Atlantic Division.
Diggs was nominated for his volunteer service at the Waynesboro Family YMCA for the past three years.  He volunteers with "Friday Night Basketball," a gang prevention program for middle and high school kids.
"It started with simply volunteering to run our books and the clock during basketball games," said Jeffrey Fife, executive director of the Y. "Eventually, he started serving as a referee for the younger children's games and then moved to the older groups.  Now, Justin is a critical partner in supporting the program that averages 125 teens.
"I trust the building and program goes smoothly when he is here.  Justin is mature beyond his age and takes pride in his volunteerism.  He is a role model for kids and a major asset to our team," added Fife.
Justin joined Kroger three years ago at the age of 17.  "Justin epitomizes the type of leader that we need in today's world," says Don Surratt, store manager.  "His involvement in the community is admirable, and it reflects in his work performance at the store.  Justin is a role model and a big brother to many kids."
Kroger's Mid-Atlantic Division recognized Diggs by donating $500 to the charity of his choice, the Waynesboro Family YMCA Youth Sports Program.
Kroger operates 120 stores in six states with more than 18,000 associates in the Mid-Atlantic Division.