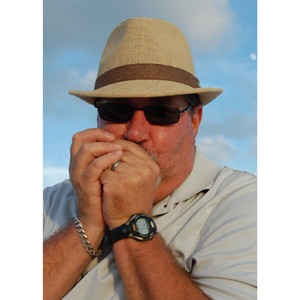 Listen to me now and thank me later… Clear your calendar for February 16th. Buy a ticket to Mojo Saturday Night for the February show (February 16th, that you just cleared your calendar for). Come down to The Gateway and enjoy a rare and exclusive evening with Roddy Barnes and his piano. It'll be some of the toe tappinest, hip shakinest, back beatinest and even some of the sweetest blues piano you've ever heard.
In his spare time, Roddy performs in The CC Show, plays with Gaye Adegbalola (who with Ann Rabson and Andra Faye were Saphirre – The Uppity Blues Women!) and teaches blues piano!
This Mojo Saturday Night will turn February into a scorcher and heat up Main St like you've never seen!!
BTW, Costa Rica was awesome, but I only heard one blues tune: a guy playing guitar on the beach doing I Can't Be Satisfied, by Muddy Waters. I would have stopped and asked for more, but if the one he knew didn't sound so good…
So, I rushed back to Waynesboro, grabbed my harps and had a jam-up set with Lisa Miller and Jack Roy ("J3" – or the Juke Joint Junkies as we are known collectively). A big thanks to Juke Joint Jackson for opening the show with some of the material he'll play in Memphis next week in the International Blues Competition… GOOD LUCK, Jack!
February 16th – Roddy Barnes – Mojo Saturday Night – 8p at The Gateway
(And…don't forget to thank me after the show !)
Kevin Chisnell is the host of Mojo Saturday Night. More information online at WTAGateway.com.