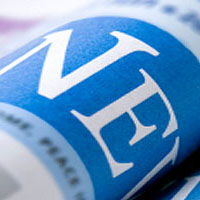 The Shenandoah Valley Battlefields Foundation has announced the appointment of Keven M. Walker as the new Chief Executive Officer of the Foundation. Walker, who was selected from a field of 35 candidates, comes to the Foundation from the Antietam National Battlefield, where for the past 11 years he served as Cultural Resources Program Manager and Historian. Walker's first day on the job was May 27. He steps into the role formerly held by W. Denman Zirkle, who retired from the SVBF on March 31.
Walker takes the helm of the Foundation during the busiest year in its history. The SVBF's ambitious programs in the coming months include the Campaign for Third Winchester battlefield restoration and interpretation effort, new interpretive trails at Fisher's Hill, the renovation of the historic Lee-Jackson Building into an orientation center, store, and cafe, major land preservation efforts, and a host of 1864-2014 Sesquicentennial programs, including a conference on the 1864 Shenandoah Campaign on August 2 and the 150th Anniversary of the Third Battle of Winchester on September 19 and 20, which will include tours, descendant programs, a kids camp, the "Stars Over Winchester" gala with Robert Duvall and Ed Bearss, and the climactic commemorative program, "The World on Fire: Third Winchester and the 1864 Shenandoah Campaign."
At Antietam, Walker was responsible for historic research, historic architectural history, the preservation and restoration of historic structures, the survey and evaluation of historic sites, and long range multidisciplinary preservation planning. He led teams in the preservation and restoration of Antietam's historic structures and cultural landscapes. Walker serves as member of the National Park Service's national advisory team on cultural resources and historic preservation. He is a member of the 2014 GOAL Academy class. The GOAL Academy is the National Park Service's highly competitive Leadership program designed to develop Leaders for senior leadership positions. Edwin C. Bearss, Chief Historian Emeritus of the National Park Service, stated that "Keven Walker's work has been exemplary; ranking him with the best historic preservation professionals I have known since I began my career."
Walker was formerly the Executive Director of The Walker Foundation for Historic Preservation in Charles Town, West Virginia. In that capacity he researched, developed and presented hundreds of tours and programs; began the restoration of two George Washington family Plantation houses, organized community action groups to address preservation issues in their localities and advised land owners and businesses about the long term benefits of preservation and heritage tourism. Walker has appeared on several Maryland Public Television documentaries focusing on the Antietam battlefield as well as historic homes in Washington County, Maryland. He is the author of "Antietam: A Guide to the Landscape and Farmsteads," published in 2010.
Allen Louderback, Chairman of the Shenandoah Valley Battlefields Foundation stated, "I was impressed with Keven's resume and how highly regarded he was by the people he worked with and knew him. After the interviews I was confident that he was the right person to lead the Foundation. His enthusiasm and knowledge was inspiring and as Chairman I look forward to working with Keven to advance our efforts in Civil War Battlefield preservation. Keven has the passion and desire to protect our heritage and properly honor the hallowed ground on which our ancestors have fought."
Walker stated upon his appointment, "The Shenandoah Valley is one of the most beautiful and historic regions in the nation, the home of my children's ancestors and the place I've called home for almost 20 years. To be a part of the effort to preserve the Valley's Battlefields and rich Civil War heritage is a tremendous honor and a responsibility that I will not take lightly."