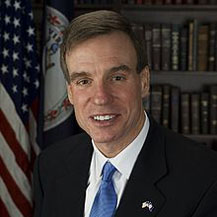 The re-election campaign of Senator Mark Warner today announced 16 former Virginia Republican elected officials who have endorsed Warner (D-VA) for his 2014 re-election bid. This follows former U.S. Senator John Warner's endorsement in January. These GOP elected officials have collectively served the Commonwealth for 312 years and for many, this is their first time endorsing a Democrat for statewide office. Please see the full list below.
"Since no one party has a monopoly on good ideas, I have made it my priority to work across party lines to get real reforms accomplished for Virginians," said Senator Mark Warner. "We must work together so that we can get our fiscal house in order, provide an affordable quality education and ensure that all Virginians have their fair shot at success."
The Republicans announcing support for Senator Warner are:
Sen. Warner, a successful Virginia business leader and entrepreneur, served as Governor of Virginia between 2002-06. During his four-year term as Governor, the Warner Administration attracted nearly 130,000 new jobs to the Commonwealth, and Virginia was honored as the country's Best Managed State, the Best State for Business, and the Best State for Educational Opportunities.
Elected to the U.S. Senate during the 2008 recession, Sen. Warner had a key role in successfully enacting bipartisan Wall Street reforms. Widely viewed as a consensus-builder in Congress, Sen. Warner has worked for greater fiscal accountability, and he is a bipartisan leader in promoting innovation and greater economic opportunity. Sen. Warner is a champion for Virginia's small businesses, and a strong advocate for Virginia's military men and women, our veterans and their families.