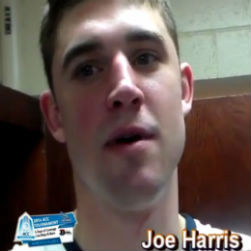 The Vertical is reporting that UVA alum Joe Harris has signed a free-agent deal with the Brooklyn Nets.
Harris, a 2014 second-round pick of the Cleveland Cavaliers, was traded to Orlando in January in a move by the Cavs to free up salary-cap space, then was released by the Magic.
All of this came on top of season-ending surgery to remove a bone in Harris' right foot.
Harris, a 6'6", 225-pound guard, played in 56 games in parts of two seasons with Cleveland, averaging 2.5 points per game. He played in 10 games in the NBA D League in 2015-2016, averaging 16.4 points and 5.2 rebound per game.