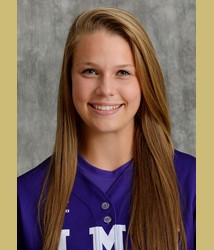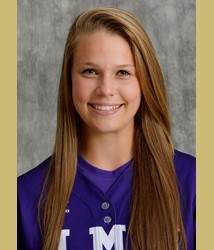 James Madison softball freshman Megan Good produced a solid week both from the circle and the plate as she was once again named Colonial Athletic Association Rookie of the Week, the league office announced Monday.
This is the second straight week Good was recognized as the league's top rookie and the third time this season after she helped the Dukes (22-6, 3-0 CAA) win all five games last week, including a road sweep in the conference opener at Towson. JMU has now won 13 straight games and swept the season series with TU for the fourth consecutive year.
"Megan has worked extremely hard to build herself physically and to learn the game at this level," Head CoachMickey Dean said. "Her maturity and understanding of the game has helped her make adjustments both offensively and in her pitching. As a coach, I appreciate her willingness to continue to grow as a player. Players like Megan make each day a joy to come to practice or a game."
Good went 3-0 in the circle with a perfect 0.00 ERA, moving her season record to 12-0. She allowed just four unearned runs, nine hits and three walks while striking out 20 opposing batters in 20.0 innings pitched. In game one of the series against Towson, she struck out 11 batters, the second-most in a single game during her freshman season.
She also led Madison in batting, going 8-for-16 (.500) with a pair of home runs, upping her total to five in 2015. She also accrued five RBIs while tying for the team lead with six runs. Good went 3-for-4 in game one of JMU's mid-week series against Virginia, including a homer and three RBIs, and added another bomb in game two versus the Cavaliers. She also produced two-hit outings in both of Saturday's comeback wins against the Tigers.
The Dukes return to action Wednesday, March 25, when they travel down to Chapel Hill, N.C., to take on North Carolina in a doubleheader at Anderson Stadium. First pitch is set for 3 p.m. and the game can be seen on GoHeels TV for a nominal fee.