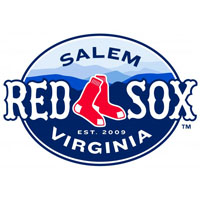 The Lynchburg Hillcats scored six runs in the third inning and didn't look back in taking down the Salem Red Sox, 10-4, on Thursday night at LewisGale Field, earning a three-game sweep. It's the first time the Red Sox have been swept in 2015.
After Jose Vinicio scored and gave the Sox a 1-0 lead in the first inning on a Mario Martinez single, Lynchburg's offense erupted in the third. With one out and an 0-2 count, Kevin McAvoy hit Clint Frazier with a pitch. He then walked Bradley Zimmer to load the bases and Nellie Rodriguez with the bases loaded, allowing Ivan Castillo to score. One batter later, Eric Haase drove a double to left scoring Frazier and Zimmer. Paul Hendrix kept the line moving with a single that scored Rodriguez and Haase, making it 5-1. Mike Papi followed that with a single of his own, driving in Hendrix and extending the Lynchburg lead to 6-1.
McAvoy (3-3) did not finish the third inning, lasting just 2.2 frames, which represented his shortest outing of the season. He allowed six runs (all earned) on four hits, walking four and hitting one batter with a pitch.
Salem cut into the lead with a two-out rally in the fifth. Sam Travis worked a walk and was quickly knocked in by a deep double to center from Martinez. With two runners on, Aneury Tavarez smacked a doubled into right-center emptying the bases and cutting the deficit to 6-4.
Lynchburg tacked on a pair of runs in the eighth. James Roberts doubled in Papi with one out while Luigi Rodriguez later lofted a sacrifice fly to left, deep enough to score Roberts and give the Hillcats an 8-4 lead.
The Hillcats scored two more times in the ninth, with Haase driving two on a triple to account for his third and fourth RBI of the night. Luis Lugo (2-2) lasted five innings and gave up four runs to earn the win for the Hillcats. He struck out six batters and allowed eight hits.
Taylor Grover was strong in relief for the Sox, striking out seven over 4.1 innings. Only two Hillcats reached against Grover, both via walks. Mario Martinez led Salem offensively, finishing 2-for-5 with a double and two RBI.
The Red Sox welcome the Winston-Salem Dash to LewisGale Field for the first of a four-game series on Friday night. It's a Freedom Friday in Salem, as the Sox will wear special camouflage uniforms host a postgame fireworks show. It's also Hunger Games Night with all fans encouraged to dress up in their favorite themed gear. Fans unable to attend can listen on 1240 AM ESPN Roanoke, online on salemsox.com or via the TuneIn Radio app.