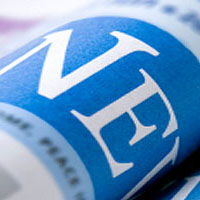 The National Endowment for the Arts announced a series of competitive grant awards to nonprofit arts organizations around the nation, including a grant to the Heifetz International Music Institute to support its Performance and Communication Training© program innovated by Founder and Artistic Director Daniel Heifetz. The unique "Communication Training" program is a hallmark of the Heifetz Institute's solo and chamber music summer program and Festival of Concerts, which in 2016 will observe its 20th anniversary.
The $25,000 grant is the second NEA award garnered by the Heifetz Institute in 2015. In May, the Institute was awarded a $30,000 grant from the Endowment to support its "Heifetz On Tour" program of National Outreach and Career Development. Today's grant announcement is part of the more than $27.6 million awarded nationwide during this funding round, in the NEA's Art Works category which supports the creation of work and presentation of both new and existing work, lifelong learning in the arts, and public engagement with the arts through 13 arts disciplines or fields.
In announcing the award, NEA Chairman Jane Chu said, "The arts are part of our everyday lives – no matter who you are or where you live – they have the power to transform individuals, spark economic vibrancy in communities, and transcend the boundaries across diverse sectors of society. Supporting projects like the one from Heifetz International Music Institute offers more opportunities to engage in the arts every day."
Heifetz Institute Executive Director Benjamin K. Roe noted, "On the eve of the Heifetz Institute's 20th anniversary, we are honored that the Endowment has recognized both the unique value and the demonstrated results of the Heifetz Performance and Communication Training© program pioneered by Daniel Heifetz. More than ever, we believe that for a young artist to fully realize their creative potential, they will need to go beyond technical agility and beautiful playing into creating pathways for communicating the emotive power of the music.   It's our attempt to redefine the concert hall experience for classical music.
The NEA award will support the Institute's training modules, designed to help foster the expressive and creative potential of every performer, with an emphasis in the areas of Voice, Public Speaking, Drama, Movement, Health & Wellness, and Freedom of Expression. Performance opportunities in concert halls as well as non-traditional venues like schools, community centers, and clubs will enable students to hone their skills and develop confidence while learning to adapt to a range of audiences and settings.
Celebrating two decades of excellence, the Institute's 20th Anniversary summer program and Festival of Concerts will run from June 30 – August 11, 2016.   For additional information please visit www.heifetzinstitute.org.