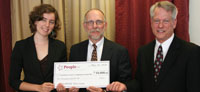 Story by Chris Graham
[email protected]
 
A $10,000 grant from a community-development group based in Southwest Virginia will enable the Staunton Creative Community Fund to relaunch small-business development training.
"It's an opportunity, from our perspective. We really believe in the concept of microenterprise development and are impressed with what you're doing here," People Inc. President and CEO Robert Goldsmith said today at an event at the SCCF office on New Street to announce the grant.
The Fund, founded in 2008, works with small-business entrepreneurs with training, consulting and direct financing with $500,000 in direct lending capacity.
The focus is on what the SCCF refers to as the "triple bottom line" approach that emphasizes along with economic viability in its small-business parners the additional principles to those businesses' bottom lines that they are also socially equitable and environmentally sound.
"The Staunton Creative Community Fund really impressed us – with what you're doing and the way you do it, and what you intend to do," said Goldsmith of People Inc., which founded the first microenterprise development program in Virginia in 1990.
The partnership with the Fund is the first of its kind for People Inc., which has traditionally worked directly with small businesses akin to the methodology of the SCCF.
"We're excited to be partnering with People Inc. We're still a young small-business development organization, but I think we've really been innovative in providing training and one-on-one consulting and also funding for creative, up-and-coming small businesses in the Staunton region," the Fund's executive director, Meghan Williamson, said today.
More information about the Fund is available online at www.stauntonfund.org.