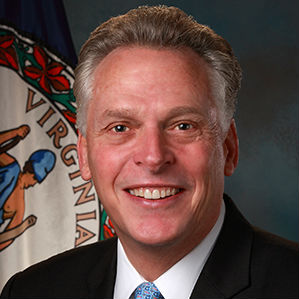 Governor Terry McAuliffe today announced a successful two-day visit to the United Arab Emirates (UAE) during his trade and marketing mission to the Middle East and India November 13-24.
The Governor met with Vice President and Prime Minister of the United Arab Emirates and Ruler of Dubai, His Highness Sheikh Mohammed bin Rashid Al Maktoum. The Governor and Sheikh Mohammad discussed ways to strengthen existing business relations and promote increased trade and investment between the Commonwealth and the UAE. Present during the meeting were Sheikh Hamdan Bin Mohammad Bin Rashid Al Maktoum, Crown Prince of Dubai, and Sheikh Maktoum Bin Mohammad Bin Rashid Al Maktoum, Deputy Ruler of Dubai.
Speaking about meeting with the Sheik, Governor McAuliffe said, "The UAE represents significant opportunities for Virginia for increased trade and foreign direct investment. I was honored to meet with His Highness Sheikh Mohammed bin Rashid. The relationships that are established during these marketing missions play a significant role in building the new Virginia economy."
In addition to meeting with Sheikh Al Maktoum, Virginia Secretary of Commerce and Trade Maurice Jones executed a Memorandum of Understanding with Dubai Economic Development to arrange future collaborations and identify economic development opportunities between Virginia and Dubai.
Six Virginia companies also exhibited at the Dubai Airshow, including Defense Technology Equipment, Inc. (DTE); UXB International; MAC Aerospace; Germane Systems; Momentum Aerospace Group; and Aeronautical Systems, Inc. The biennial air show welcomed 65,000 visitors, and featured over 1,100 exhibitors representing 61 nations. The event enabled Virginia companies to promote their capabilities to potential partners and customers from across the Middle East.
Results include an agreement for DTE to serve as the exclusive Latin America distributor for Stahlwille, a German tooling manufacturing company. Momentum Aerospace Group also announced its decision to open a regional office in Dubai to meet the growing demand for manned and unmanned airborne surveillance services by customers within the region.
"Being great at international trade and commerce requires the establishment and maintenance of relationships that cross international boarders," said Secretary of Commerce and Trade Maurice Jones.  "The trade mission to the UAE afforded us the opportunities to establish important contacts in the Middle East that will result in the growth of jobs in Virginia."
The Governor's 11-day trade and marketing mission continues in India, Oman and Kuwait.