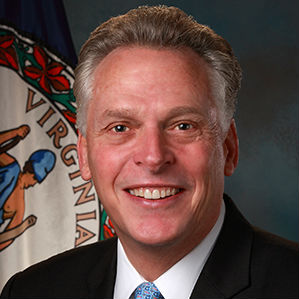 Today at a press conference in Richmond, Governor Terry McAuliffe announced that he has named six new Virginia business and transportation leaders to the Commonwealth Transportation Board.
"Over the past several months, my administration has been working hard make Virginia a leader in the 21st Century Economy, be smart stewards of taxpayer dollars, and build a strong foundation for the next generation to succeed," said Governor McAuliffe. "Investing every one of our transportation dollars wisely is central to meeting those goals. The bipartisan Virginia business and transportation leaders that I named to the Commonwealth Transportation Board today share my vision for the future of our transportation system, and will get right to work investing our resources in projects that ease congestion, promote economic development and support local communities across the Commonwealth."
Shannon Valentine, Lynchburg
Shannon Valentine is a lecturer, former member of the Virginia House of Delegates, and advocate for serving the poor through economic opportunity. In January 2014, she completed an assignment as Director for the Transportation Policy Council for Governor McAuliffe's transition team. During her time in the House of Delegates, 2006-2010, Shannon's legislative priorities included ethics, economic development, education and transportation. She led the bipartisan, legislative effort to invest in intercity passenger rail service for the first time in Virginia's history, worked to expand clean energy production, and created the first comprehensive legislative study of autism, which continues to serve as a blueprint today.
Shannon currently serves on the Board of the Sorensen Institute for Political Leadership, Lynchburg City School Foundation, E. C. Glass Foundation, Converge Virginia, Habitat for Humanity Advisory Council, and Beacon of Hope, an organization dedicated to inspiring and preparing students for post-secondary education.
Court Rosen, Roanoke
Court Rosen is Vice Mayor of the City of Roanoke and has served on the Roanoke City Council since 2008. He has a deep background in business and public service. He currently serves as a principal with Walnut Creek Development Group, a residential real estate development firm. He has previously held several strategic communications positions on Capitol Hill. Court is a graduate of Vanderbilt University.
Henry "Hap" Connors, Fredericksburg
Henry (Hap) Connors is Vice President for Government and Public Affairs at the Center for Innovative Technology (CIT). In this role, Hap oversees corporate communications and outreach to federal, state, and local government officials to increase awareness of CIT's mission and its economic value to the Commonwealth. Hap has 25 years of experience in strategic marketing and communications for business, non-profit and government entities. Hap's background includes management of marketing and media relations activities for the National Trust for Historic Preservation and the U.S. General Service Administration. Hap also served for nine years on the Spotsylvania County Board of Supervisors, and currently serves on numerous boards of foundations and non-profits in the Fredericksburg area.
James W. Dyke, Jr., Reston
Jim's broad practice covers corporate, legislative, education, governmental relations, and municipal law. He previously served as Virginia's Secretary of Education under former Governor L. Douglas Wilder, and as domestic policy advisor to former Vice President Walter Mondale.
Jim has established a significant regional presence in the business, education and government arenas. He was elected chairman of the Greater Washington Board of Trade for 2010. The Board of Trade is the largest regional business organization in the Washington, D.C., area, advocating for the business community in Virginia, the District of Columbia and Maryland. During his term, he was co-chair of the Joint Washington Metropolitan Area Transit Authority (Metro) Governance Review Task Force. He was subsequently appointed by Virginia Governor McDonnell to be the Commonwealth's representative on the WMATA Board of Directors where he chairs the Governance Committee.
E. Scott Kasprowicz, Middleburg
Scott Kasprowicz has an extensive business and public service resume to compliment his substantial philanthropic and private aviation accomplishments. In 1981 Scott founded Texel, a privately held communications services company in Reston which he sold in 1999 after growing revenues in excess $45 million.
Scott, an avid conservationist and environmental impact advocate, later served as Deputy Secretary of Transportation under Governor Kaine. While serving as deputy secretary, Scott was influential in numerous planning and development initiatives including the advancement of the Dulles Rail project.
Marty Williams, Richmond
For over twenty years, Marty Williams worked from the inside at both the state and local government levels throughout Virginia. Marty's public service began in 1990 when he was elected to the Newport News City Council and was twice selected as Vice Mayor by his peers. As member of the Newport News City Council he represented the city on a variety of regional boards and commissions, interacting with local political and administrative leaders across the state. Marty was elected to the Virginia State Senate in 1995, representing the Virginia Peninsula and was named Chairman of the Senate's Transportation Committee in 1999, where he served until 2007.