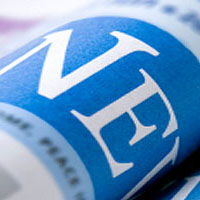 Governor Terry McAuliffe announced today that Luca Paschina, General Manager and winemaker of Barboursville Vineyards, was inducted into the Order of Merit of the Italian Republic in recognition of his leadership in the establishment of Barboursville Vineyards as the standard of excellence in Virginia wines.  His Excellency Claudio Bisogniero, the Ambassador of Italy, and Mr. Gianni Zonin, Chairman of Italy's Casa Vinicola Zonin, the parent company of Barboursville Vineyards, celebrated the induction into the Order with Paschina at a ceremony at the Hay Adams in Washington, D.C on Monday night.  The ceremony, which the Governor was not able to attend due to the State of Emergency declared in response to the snowstorm, brought together Virginia's world-class winemakers, winery owners, grape growers, elected officials, media, and other distinguished guests.
In June 2014, the President of the Italian Republic bestowed on Paschina the Order of Merit of the Italian Republic, with the rank of Commendatore.  Originating in 1951, the Order is modern Italy's recognition of the highest distinction in occupations, which reflects honor upon the nation and the Italian people in cultural pursuits, among other activities.  The induction of Paschina is an expression of respect for the international recognition he has garnered with his work at Barboursville Vineyards with the Zonin family.
Speaking to the Order of Merit recognition, Governor McAuliffe stated, "I congratulate Luca for being awarded one of Italy's highest civilian honors.  We are grateful to have such a tireless champion for the Virginia wine industry in Luca, whose wines have won the Governor's Cup competition an unprecedented four times and distinguished themselves in many international competitions.  His work and constant pursuit of excellence, along with the efforts of so many others, have made the Commonwealth a world-class wine producer.  I look forward to working with Luca, other winemakers, and grape growers to further raise the profile of our wines and help generate more revenue and jobs throughout the state as we strive to build a new Virginia economy."
"Italy and Virginia share historical and cultural connections going back to Mazzei and Jefferson in the earliest stages of the union," said Ambassador Bisogniero. "Both were interested in viticulture and Barboursville Vineyards is a new partnership model which exemplifies their visions. Italy's celebrated Zonin winemakers, devotedly curated and cultivated by Italian-Virginian Luca Paschina, whose contributions to both countries are the motivations of the honor conferred to him, produced an excellent result. We are delighted to have played a starring role in this development by sharing our revered traditions, our iconic taste, and our quality. This is just one of many new joint beginnings."
"Over the past eight years, I've had the honor of working closely with Luca to promote Barboursville and other Virginia wines here and around the world," said Todd Haymore, Secretary of Agriculture and Forestry.  "During this time, Luca has been a dedicated advisor from his long-time position on the Virginia Wine Board and a trusted friend who has given sound counsel on gubernatorial initiatives aimed at raising the profile of Virginia's burgeoning wine industry.  Above all else, he's been an outstanding global ambassador for Virginia wines.  I congratulate him on the high honor bestowed on him by the Italian government and look forward to working with him in the future."
The past few years have been an exciting time for Virginia wines.  With a record-breaking 521,000 cases sold in fiscal year 2015 and export sales reaching a new levels over the last few years, Virginia is quickly establishing a track record for the caliber of wine the East Coast can produce.  The climate and soil of Virginia places its wines stylistically between the West Coast wine region and European neighbors to the East.  Wines tend to be fruit forward like West Coast wines, but also embody higher acidity and balance, similar to European wines.
Raising the profile of Virginia wines and wine tourism, along with the production of top quality wines, are key components in the recent strong growth of the Virginia wine industry.  Governor McAuliffe is committed to making the continued growth and success of the Virginia wine industry a priority of his administration by serving Virginia wines at the Executive Mansion and promoting them throughout Virginia, on domestic business recruitment visits and on international trade and marketing missions.
Virginia currently ranks fifth in the number of wineries in the nation with more than 250.  Virginia is also the nation's fifth largest wine grape producer.  According to a 2012 economic impact study, the Virginia wine industry employs more than 4,700 people and contributes almost $750 million to the Virginia economic on an annual basis.  For more information about the Virginia wine industry, please visit the Virginia Wine Board Marketing Office's website at www.virginiawine.org or call 804-344-8200.
Virginia has been listed as one of the best wine travel destinations in numerous media outlets including Wine Enthusiast, USA Today, Food & Wine Magazine and the Washington Post, noting the state's picturesque landscapes and friendly winemakers set Virginia apart as an excellent wine destination.  In 2013, approximately 1.6 million people visited Virginia wineries.  Tourism is an instant revenue generator for Virginia. Visit virginia.org/wine to learn more about wine travel in Virginia or call 1-800-VISITVA to request a free, Virginia is for Lovers travel guide and start planning a trip to Virginia.