Jalen Jenkins recorded his second career double-double and Johnny Williams tied his career-high in points, but it was not enough as george washington earned a point in the Revolutionary Rivalry with a 75-69 victory on Saturday.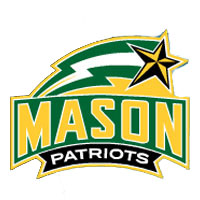 Jenkins finished the night with 13 points and 11 rebounds, while recording a career-high four assists. Williams matched his career-high in scoring, leading the team with 18 points. Freshman Marquise Moore set new career-highs in scoring with eight points and assists with seven. Mason shot 46.6 percent from the floor and 71.4 percent from the charity stripe (10-14). Mason's bench outscored GW, 30-13.
All five starters finished in double-figures for the Colonials led by Kevin Larsen and Joe McDonald with 14 points each. Maurice Creek dished out seven assists as GW recorded 20 in the game and won the rebounding battle, 34-30.
The Colonials shot 66.7 percent from the field in the second half to erase a halftime deficit and takes its permanent lead of the contest at the 17:32 mark following an Isaiah Armwood jumper for a 36-35 score. The Colonials led by as many as 16 points at the 4:20 mark in the second half before Mason closed the game with a 9-4 run for the final 75-69 score.
The first half witnessed 11 lead changes and eight tied scores as the Patriots took an 18-14 lead with a Jenkins three-point play at 9:49. GW would tie the score late in the second half using a 7-0 run before the Patriots answered with their own 7-0 run for a 30-25 lead at 3:31. GW hit two unanswered to close the half as Mason led 30-29 at the break.
GW improved to 16-3 overall and 4-1 in Atlantic 10 play, while Mason dropped to 7-13, 0-6. GW now leads the Revolutionary Rivalry, 5-4.
Mason returns to action traveling to Saint Louis on Saturday, February 1. Game time is slated for 2:30 p.m. on NBC Sports Network.