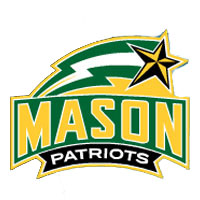 Junior Shevon Thompson notched his third double-double of the season leading the George Mason men's basketball team to a 99-69 rout over Catawba in the RAC Wednesday night. Six players scored in double-figures as the Patriots improved to 3-6 with the victory.
Thompson finished with a career-high 29 points on 13-of-15 shooting as Mason outscored Catawba in the paint, 70-44. The junior capped the night with 10 rebounds to lead the Patriots on the glass and three blocks. Mason won the rebounding battle of the Indians, 36-35.
Freshman Isaiah Jackson also recorded a career-night with a personal-best 14 points, while Marko Gujanicic posted a season-best 12 points. Marquise Moore and Trey Porter each added 11 points, while Patrick Holloway rounded out the Patriots in double-figures with 10 points. Mason recorded a season-best 21 assists on the evening fueled by four assists each from Moore and Gujanicic.
The Patriots shot 66.7 percent from the floor (42-63) while holding Catawba to a 35.7 percent effort (25-70). Catawba finished the game 18-of-23 from the charity stripe led by Rakeen Brown who went 4-for-4 to post a 16 point performance. KJ Arrington led the Indians with 17 points.
Mason never trailed in the contest and held its largest lead of 32 points with three minutes to go in the contest.
The Patriots return to action in the Patriot Center on Saturday at 7 p.m. welcoming Iona for a televised game on NBCSN.