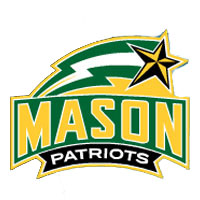 Sophomore Marquise Moore sank a pair of free throws with two seconds left in regulation to force overtime at northern iowa. Moore added a pair of free throws in overtime but George Mason couldn't overcome UNI as the Patriots fell in overtime, 71-65, in the McLeod Center.
Moore posted his second-straight 20-point game, finishing with 20 points and a career-high nine rebounds. The Queens, N.Y. native went 10-for-14 from the free throw line, including the clutch free throws at the end of regulation, to tie his career-high once again. Moore capped his night with three steals and two assists.
Mason trailed by as many as 12 points in the second half and rallied late looking for the come-from-behind win. Trailing by eight with 2:57 to play, Jalen Jenkins cut it to a five point game converting a three-point play before Moore hit the back end of a pair of free throws to close the gap to 53-49 with 1:23 remaining. The Patriots and Panthers traded baskets before freshman Isaiah Jackson drained a triple from the right wing with 23 seconds left to bring Mason within three, 57-54. A Wes Washpun free throw put UNI back up by four, but a trey from Vaughn Gray from the top of the key quickly sliced the score to 58-57 with eight seconds remaining. Seth Tuttle hit a free throw before Moore drew the foul and converted a pair to force overtime.
UNI outscored the Patriots 12-6 in overtime to seal the victory, 71-65. Moore scored four of Mason's six points while Shevon Thompson added a tipin for the Patriots. UNI was 8-for-10 from the free throw line in the overtime period and out-rebounded Mason, 7-3.
Mason shot 35.1 percent (20-57) for the game and was led by Moore with 20 points and Gray with 10 points. Thompson just nearly missed a double-double with a team-high 11 rebounds to go along with nine points. Moore fell one rebound shy of a double-double with nine rebounds.
Four Panthers scored in double-figures led by Tuttle with 16 points. Washpun paced UNI on the glass with nine rebounds as the Panthers narrowly won the battle on the glass, 45-43. The Panthers converted 16 Mason turnovers into 20 points, including 13 points off 10 turnovers in the first half.
Mason breaks for the exam period and returns to action welcoming Catawba on December 17 at 7 p.m. in the RAC.