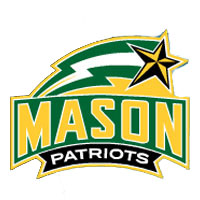 The George Mason men's basketball team recorded its first victory of the season, topping Princeton, 63-60, Sunday afternoon in the Patriot Center. Patrick Holloway led all scorers with 19 points.
It all came down to the final minutes as Princeton (1-1) cut its double-digit deficit to a one possession game with less than two minutes to play. Mason (1-1) took a four-point lead, 61-57, on a Marquise Moore free throw before two made free throws from Spencer Weisz set the score at 61-59 with 41 seconds to play.
A trip to the charity stripe for Jalen Jenkins resulted in a 62-59 ballgame with 22 seconds left as the Tigers looked to tie the score on a trey attempt from Steven Cook, but the shot was off the mark. Fouled on the rebound, Jenkins hit the front end of a pair of free throws as Princeton's Hans Brase converted one free throw attempt with 1.4 second left for the final 63-60 score.
For the game, Mason shot 43.6 percent (24-55) and outscored Princeton 32-18 in the paint. The Tigers shook off a slow start, shooting just 19 percent through the first two media timeouts, to shoot 33.9 percent (19-56) for the game.  Shevon Thompson just missed a double-double, leading Mason on the boards with nine rebounds as the Patriots won the battle on the glass, 43-34. Thompson opened the contest on a tear, draining six points in the first three minutes as the junior finished with eight points for the game. Marquise Moore added 11 points to the scoreboard.
Mason raced out to a 15-6 lead forcing Princeton to call an early timeout at 14:01 in the first half. Mason would expand its lead to 17 points for the first time on a Thompson jumper at the 7:56 mark. The Tigers closed the half with a 7-3 run as the Patriots led 32-19 at the break.
Both teams shot over 40.0 percent in the second half as Princeton outscored the Patriots, 41-31 in the period. The Tigers opened the stanza draining a pair of treys to quickly cut the score to 32-25 with 18:28 to play. An old-fashioned three-point play from Jenkins returned an 11-point lead to the Patriots, but Princeton would slowly chip away at its deficit, cutting the score to three on a Clay Wilson triple, setting up the final minutes of play.
Brase paced the Princeton offense with 17 points and 14 rebounds, while Weisz added 10 points to the board.
Mason returns to action in the eighth annual Puerto Rico Tip-Off, November 20-23. The Patriots open the tournament in San Juan facing West Virginia on Thursday at 7:30 p.m. on ESPNU.