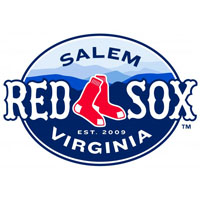 Salem scored four times in the fourth to create a 4-0 lead, but Frederick furiously fought back, jacking three homers in their final three offensive innings and soaring to a 6-4 victory on Friday night at Harry Grove Stadium. Jerome Pena blasted two deep drives in as many innings, the latter of which transformed a 4-2 deficit into a 5-4 Keys lead in the last of the seventh. Mark Blackmar earned his 10th win for Frederick with a seven-inning performance, while Lex Rutledge picked up his seventh save, striking out three in the ninth.
At the time of this release, Carolina is tied with Lynchburg 4-4 in the ninth. If the Mudcats win, Salem and Carolina will be tied for the Southern Division Wild Card spot, while a Hillcats victory would keep the Sox a full game ahead.
Salem starter Jacob Dahlstrand looked unhittable at the outset, retiring the first 12 Keys he faced over four perfect innings, which included six strikeouts. He surrendered a pair of singles in the fifth, but escaped unscathed. In the seventh, he walked the leadoff man and then yielded a single to Tucker Nathans, prompting the call to the bullpen. Kyle Martin took over, and after a sacrifice bunt moved the runners up, Pena launched his second homer, a three-run shot to give the Keys their first advantage of the night.
The Sox put runners on in each of their first six innings, but Blackmar repeatedly extricated himself from the situation. Salem only capitalized in its fourth inning after Jantzen WItte, Reed Gragnani, and Mario Martinez began the frame with three straight singles to load the bases. Kendrick Perkins' RBI fielder's choice brought home the Sox's first run, and Leonel Escobar followed with another RBI grounder. Then, Dreily Guerrero pounded a two-run homer to make it 4-0.
Witte and Jose Vinicio each had three hits apiece, while Guerrero added two hits for the Sox, who outhit the Keys 10-8. But Pena and Chih-Hsien Chiang each had two hits for Frederick, with three round-trippers between the pair.
The Salem Sox journey to Wilmington for the final three days of the regular season. Saturday night features a doubleheader, with Pat Light scheduled to start opposite Carolina League Pitcher of the Year Glenn Sparkman in the opener. First pitch is slated for 5:05 from Frawley Stadium.